Friday, 12th March 2021: Why have you forsaken me?
Reading : Verses from Psalm 22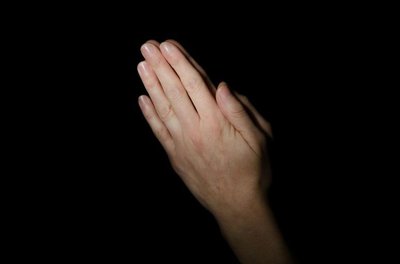 My God, my God, why have you forsaken me?
Why are you so far from helping me,
from the words of my groaning?
O my God, I cry by day, but you do not answer;
and by night, but find no rest....
Do not be far from me,
for trouble is near
and there is no one to help.
(Church in Wales Lectionary, New Revised Standard Version)
---
Thoughts
In Matthew's Gospel we read that on the cross Jesus cried, 'Eli, Eli, lema sabachthani?', meaning 'My God, my God, why have you forsaken me?' The words as we can see are probably taken from Psalm 22. Jesus was punished for our sin, he took our pain and suffering and died for us, so that he could bring us nearer to God. At the moment of his death with the sins of the whole world upon him he must in some way have been unconscious of God's presence.
When we or a loved one are in mortal peril, perhaps through illness, or some other danger, often we cannot pray and feel separated from God in a way that normally wouldn't happen. We can feel that God is far away, and we don't understand why He seems to have left us to suffer alone.
It is so important that every one of us prays for those who cannot pray. Pray for friends and loved ones in pain; pray for those you don't know; and keep on praying. If you are the one who is suffering, then rest in the knowledge that we will be praying for you.
---
Prayer
Lord God,
we pray for all who
are desperately in help this day.
We pray for ............ (add names here)
as well as those we don't know,
and ask Your healing power upon them.
May we learn to trust
Your plans for all for whom we pray.
Amen.
---
Follow Up Thoughts
You might like to find out more about Psalm 22, and the words 'My God, my God, why have you forsaken me?':