Thursday, 21st April 2022: Thursday of Easter week
Reading : Verses from Luke, Chater 24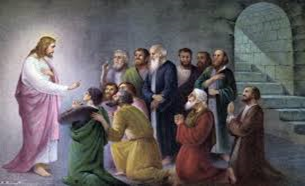 While the disciples were talking Jesus himself stood among them and said to them, 'Peace be with you.' They were startled and terrified, and thought that they were seeing a ghost. He said to them, 'Why are you frightened, and why do doubts arise in your hearts? Look at my hands and my feet; see that it is I myself. Touch me and see; for a ghost does not have flesh and bones as you see that I have.' And.... he said to them, 'Have you anything here to eat?' They gave him a piece of broiled fish, and he took it and ate in their presence.
Then he said to them, 'These are my words that I spoke to you while I was still with you—that everything written about me in the law of Moses, the prophets, and the psalms must be fulfilled.' Then he opened their minds to understand the scriptures, and he said to them, 'Thus it is written, that the Messiah is to suffer and to rise from the dead on the third day, and that repentance and forgiveness of sins is to be proclaimed in his name to all nations, beginning from Jerusalem. You are witnesses of these things.
(Church in Wales Lectionary, New Revised Standard Version)
---
Thoughts
I have only once had to act as a witness - against someone who had carried out a con trick, but I found it impossible to remember the height or size of the man, or the shape of his face or mouth. The more I thought about it the harder it seemed to get, and I realised I was not much help as a witness.
In our reading today, Jesus simply appears again, and the disciples think he is a ghost. He comes to those disciples who seem to have been absent on the day of his resurrection, or if they have been present haven't believed the women's claims to have seen Jesus. Previously he has been unwilling to be touched, but now he invites them to see his hands and feet that have been nailed to a cross. This is no ghost, and to prove it he eats some broiled fish. Then he begins his real work, to teach them what has happened in the past, and what will happen in the future. His name will be proclaimed to the ends of the world, and after being with him for three years they are the ultimate witnesses to his words, his miracles, and his promises.
Today we are inheritors of this work. Day after day as we attend church and live out our life in our family and different locality we are witnesses to the Gospel message. May God give us the courage to witness to His work and to spread his messag to our world in the 21st century.
---
Prayer
Lord Jesus Christ
who took ordinary men and women,
and who raised them to sainthood
as witnesses of Your message.
Keep us ever faithful as stewards
of Your word,
to ever continue Your work,
no matter how difficult it may be
until You call us to rest
at home with You.
Amen.
---
Follow Up Thoughts
Have you asked yourself what does the fish symbol stand for in the Christian faith? We often see it on the back of cars. Look at this article: