Sunday, 16th May 2021: The Messiah
Reading : Verses from Isaiah, Chapter 61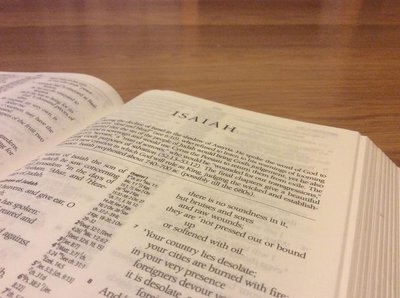 The spirit of the Lord God is upon me,
because the Lord has anointed me;
he has sent me to bring good news to the oppressed,
to bind up the broken-hearted,
to proclaim liberty to the captives,
and release to the prisoners;
to proclaim the year of the Lord's favour,
and the day of vengeance of our God;
to comfort all who mourn;
to provide for those who mourn in Zion -
to give them a garland instead of ashes,
the oil of gladness instead of mourning.
(Church in Wales Lectionary, New Revised Standard Version)
---
Thoughts
These wonderful words from Isaiah are also known to us for another reason - this was the passage that Jesus read in the synagogue in his home town of Nazareth. Having finished he rolled up the scroll and gave it back to the attendant and sat down. As a visiting Rabbi he was expected to speak, and it was the tradition to do this sitting down. All the people were looking at him and he simply said to his friends and neighbours: "Today this scripture has been fulfilled in your hearing." We can only imagine what they must have been thinking of the man they had seen growing up as a boy.
In speaking of one who is anointed, Isaiah is referring to the Messiah, for the word 'Messiah' means 'Anointed one'. He also says that God's Spirit is upon him and he has been sent to bring good news to the oppressed and broken-hearted. It is this message that Jesus brought to people throughout his three years of ministry, and the message we should take when we pass on the good news of Jesus Christ. One thought that occurs is, if Jesus needed the spirit of God upon him to do the work, how much more do we need the Spirit for our work as Christians.
---
Prayer
Heavenly Father,
we ask Your blessing
and Your Spirit
on our efforts to help others,
and on our work to take the good news
about Jesus to a wider community
through our actions and our words.
Amen.
---
Follow Up Thoughts
You might like to look up this passage in simple, modern language:
Or look up the passage in Luke's Gospel when Jesus reads the passage from Isaiah: