Tuesday, 30th November 2021: Saint Andrew, Apostle
Reading : Verses from St Matthew, Chapter 4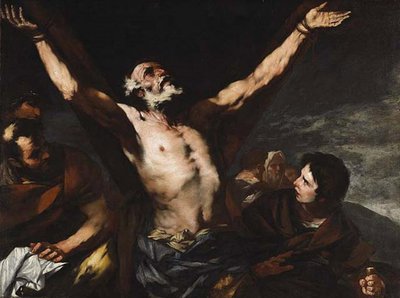 As he walked by the Sea of Galilee, he saw two brothers, Simon, who is called Peter, and Andrew his brother, casting a net into the lake—for they were fishermen. And he said to them, 'Follow me, and I will make you fish for people.' Immediately they left their nets and followed him. As he went from there, he saw two other brothers, James son of Zebedee and his brother John, in the boat with their father Zebedee, mending their nets, and he called them. Immediately they left the boat and their father, and followed him.
(Church in Wales Lectionary, New Revised Standard Version)
---
Thoughts
Today we celebrate the life of St Andrew, Apostle. He was the first disciple called by Jesus, along with his brother Simon Peter, by the lake of Galilee where they had been fishing. He was born in Bethsaida the main fishing port in the area, and when Jesus moved his base to Capernaum he and his brother would have presumably have met him there. His name means "manly" (a rather odd name for a baby) and is a Greek name, though his family appear to be Jewish. We learn from John's Gospel that Andrew was a disciple of John the Baptist (John 1.35-42) who immediately went to tell Simon about Jesus. He was also the first to call Jesus 'the Messiah', in other words, 'God's chosen one' who would come to reconcile His people to Himself.
Tradition has it that after Jesus' Resurrection Andrew worked in Asia Minor and the Black Sea, later travelling to Greece, Hungary and Russia, where he suffered many hardships. He was finally crucified on a cross, but requested it should be diagonal, presumably feeling he was unworthy to be crucified on that suffered by Jesus. Tradition also has it that his bones were brought to Scotland. He is the Patron Saint of Scotland, Russia, and Greece, where he is called the 'protocletos' that is the 'first-called'.
Andrew's immediate reaction on finding out about Jesus was to tell his brother and the other fishermen of his experience. This is what God calls us to do each day.
---
Prayer
Lord Jesus,
give us the courage and confidence
to share the experience of our faith
with those around us -
to excite and enthuse them
with what we have discovered.
When we find this difficult forgive us,
and help us to recapture
the joy we have in knowing You,
so that we may pass it on to others.
Amen.
---
Follow Up Thoughts
You might like to look up this reading concerning John the Baptist and Andrew: