Monday, 9th August 2021: Mark - 6
Reading : Verses from Mark, Chapter 2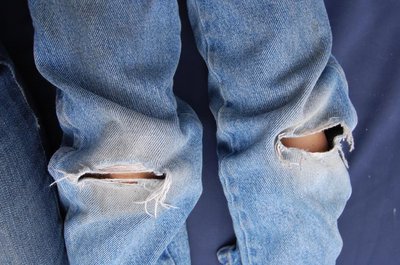 Jesus said, 'No one sews a piece of unshrunk cloth on an old cloak; otherwise, the patch pulls away from it, the new from the old, and a worse tear is made. And no one puts new wine into old wineskins; otherwise, the wine will burst the skins, and the wine is lost, and so are the skins; but one puts new wine into fresh wineskins.'
(Church in Wales Lectionary, New Revised Standard Version)
---
Thoughts
By the second chapter of Mark's Gospel we see Jesus bringing healing and new life, but also generating conflict and opposition. He is accused of blasphemy by the scribes and pharisees for forgiving sins, since this they say can only be carried out by God. Today we see two pronouncements that make it clear what Jesus' ministry is really about. Anyone who wants to rescue, say a pair of trousers that has a hole in them, would never add a patch of brand-new unwashed cotton, for the new patch would shrink and the whole thing would look awful. The same thing is true of putting unfermented wine into an old brittle wine skin, for the unfermented wine would cause it to burst.
What do these two sayings actually mean? Well we cannot live the old life of selfishness and sin, and the new life that Jesus wants us to live. To the people of his time, Jesus said they had to give up the old ceremonies, rituals and taboos demanded by the Pharisees for they conflicted with his new life which was based on the rule of love. As a seed is changed when it grows into a plant or a tree, so those who followed him would be changed as they grew in faith.
Today, this means we need to give up our old selfish life, and with the help of the Holy Spirit become changed into the person that God wants us to become. We may keep failing, but we should never stop trying!
---
Prayer
Dear Lord
help us to attend church
to worship You,
but not return
to our old life.
Help us to really
change the way we live
and become the people
You want us to become.
Amen.
---
Follow Up Thoughts
Kennon Bickhart wrote the following words for a song, based on the Mark 2.22, sung here by members of the Australian Christian group 'Hillsong Worship'. The words are typed below the link here, for you to read.
https://m.youtube.com/watch?v=1ozGKlOzEVc
In the crushing, in the pressing
You are making new wine.
In the soil, I now surrender
You are breaking new ground.
So I yield to You and to Your careful hand
when I trust You I don't need to understand.
Make me Your vessel
Make me an offering
Make me whatever You want me to be.
I came here with nothing
But all You have given me
Jesus, bring new wine out of me.
'Cos where there is new wine
there is new power,
there is new freedom
and the kingdom is here.
I lay down my old flames
to carry Your new fire today.