Friday, 21st May 2021: Jesus and his power
Reading : Verses from Luke, Chapter 8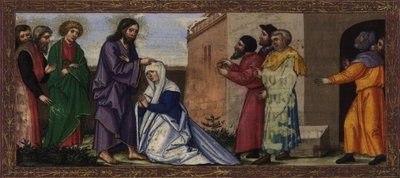 As Jesus went, the crowd pressed in on him. Now there was a woman who had been suffering from haemorrhages for twelve years; and though she had spent all she had on physicians, no one could cure her. She came up behind him and touched the fringe of his clothes, and immediately her haemorrhage stopped. Then Jesus asked, 'Who touched me?' When all denied it, Peter said, 'Master, the crowds surround you and press in on you.' But Jesus said, 'Someone touched me; for I noticed that power had gone out from me.'
When the woman saw that she could not remain hidden, she came trembling and falling down before him, she declared in the presence of all the people why she had touched him, and how she had been immediately healed. He said to her, 'Daughter, your faith has made you well; go in peace.'
(Church in Wales Lectionary, New Revised Standard Version)
---
Thoughts
This tiny miracle of healing holds so much interest. The woman has been bleeding for twelve years, in itself an awful thing, but made more dreadful because she would have been a virtual outcast. According to the Law she was unclean and unable to engage in worship. Her condition is also embarrassing, and she surreptitiously touches the fringe (or tassel) on Jesus' outer garment, knowing that she is going to make him unclean. But despite this, and the fact that those around would object to her action if they saw what she was doing, we need to note her complete faith. She knows that if she touches Jesus' clothes she will be healed.
But there is another interesting thing about this incident. The woman's action doesn't make Jesus unclean, instead his power makes her clean, and she is healed. However the woman needs to publicly acknowledge what has happened, if she is not to feel she has stolen healing from Jesus, and she needs to realise that it is her faith that has achieved this.
Today, we cannot touch the edge of Jesus' cloak, but with faith we can ask Him for healing.
---
Prayer
Lord Jesus,
we have faith,
but sometimes we wonder
if we have enough faith
when things go wrong
or we become sick.
Keep us close to You
and give us the confidence
to turn to You at every opportunity.
Amen.
---
Follow Up Thoughts
It's a little 'cheesy', but I do like this cartoon that tells the story for children: