Wednesday, 17th March 2021: I am the Good Shepherd (4)
Reading : Verses from John, Chapter 10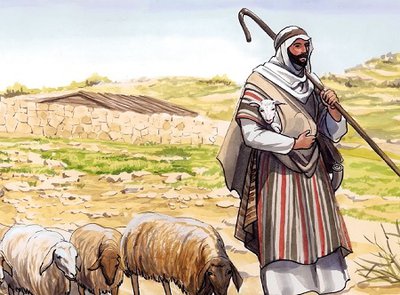 Jesus said 'I am the good shepherd. The good shepherd lays down his life for the sheep. The hired hand, who is not the shepherd and does not own the sheep, sees the wolf coming and leaves the sheep and runs away - and the wolf snatches them and scatters them. The hired hand runs away because a hired hand does not care for the sheep. I am the good shepherd. I know my own and my own know me, just as the Father knows me and I know the father. And I lay down my life for the sheep....for this reason the Father loves me, because I lay down my life in order to take it up again.
(Church in Wales Lectionary, New Revised Standard Version)
---
Thoughts
In the fourth 'I am' statement, Jesus says 'I am the Good Shepherd'. It's a statement we know well, but it's still worth looking at again, particularly as we move towards Good Friday. It's a clear indication by Jesus to his disciples, that he will soon give up his life for them, though again they seem to miss the message.
Today, we cannot believe that a shepherd would be in danger, but it wasn't unusual. There are many accounts of men being attacked by wolves and by robbers. The shepherd who only saw the work as a job, would flee when danger threatened. But the shepherd who did it for love would lay down their life to protect their flock.
Jesus says he is the Good Shepherd, and as such he cares for every one of his flock - that is all who believe in him. He will soon give up his life to protect his sheep, and to offer them eternal life. So if life is hard at the moment, hang in there, hold fast to your belief that the Good Shepherd is there for you!
---
Prayer
Lord Jesus,
good shepherd of us, Your people,
we ask Your protection
and Your help
with all the things
that cause us worry
and pain at this time.
Amen.
---
Follow Up Thoughts
You might like to watch this short cartoon - it's for children, but it explains the parable of 'The Good Shepherd' beautifully: