Monday, 19th July 2021: God's servant
Reading : Verses from Luke, Chapter 22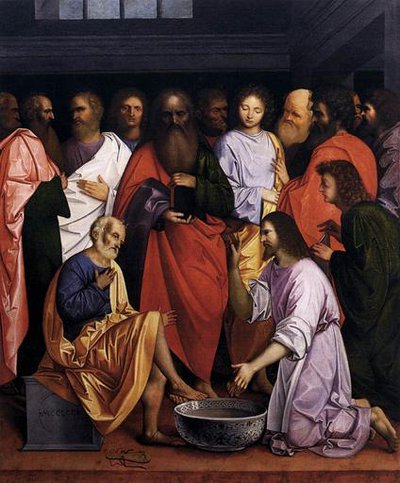 A dispute also arose among them as to which one of them was to be regarded as the greatest. But he said to them, 'The kings of the Gentiles lord it over them and those in authority over them are called benefactors. But not so with you; rather the greatest among you must become like the youngest, and the leader like one who serves. For who is greater, the one who is at the table or the one who serves? Is it not the one at the table? But I am among you as one who serves.'
(Church in Wales Lectionary, New Revised Standard Version)
---
Thoughts
It is a little sad that the disciples are arguing over who will have precedence in the coming Kingdom, in this incident in Luke's Gospel, which comes immediately after the institution of Holy Communion and just before Jesus will face the agony of the cross. The meal prior to this would have been eaten in traditional fashion around the three sides of a square with the most important person at its centre and the next senior guests either side of him. Perhaps the discussion had started with who should sit next to Jesus. But Jesus brings them down to earth, and indeed in John's Gospel he actually takes the place of a servant and washes the disciples' feet.
Our world needs those who will serve - nurses, doctors, teachers, social workers - those concerned with the care of others. Our Church also needs those who will serve - as readers, priests, visitors, teachers - but often we see those who make criticisms or suggestions, but have no intention of doing the work. I finally got into the habit of expecting people to 'put their money (or their action) where their mouth was' at meetings.
Jesus calls us to serve His Church today, not moan about it, or engage in long discussions, but just to get on and serve in any way that we can.*
* My thanks to the secret volunteers cutting grass at Manorbier churchyard who suddenly appeared when finances got tight!
---
Prayer
Lord Jesus
You called Your disciples to serve
Your Church,
and after Your resurrection
they did just that.
Help us to follow their example
and to serve Your Church
in the place You have put us
in any way that we can.
Amen.
---
Follow Up Thoughts
You might like to look up the incident of Jesus washing His disciples feet: