Sunday, 4th April 2021: Easter Sunday: 2
Reading : Verses from Mark, Chapter 16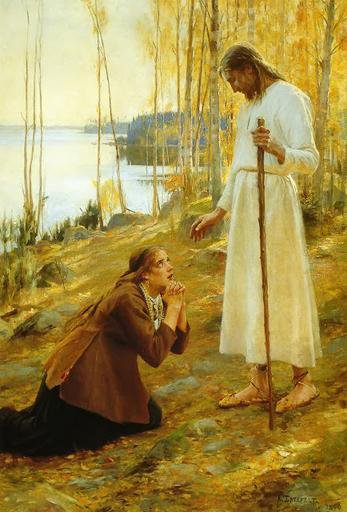 When the sabbath was over, Mary Magdalene, and Mary the mother of James, and Salome bought spices, so that theymight go and anoint him. And very early on the first day of the week, when the sun had risen, they went to the tomb. They had been saying to one another, 'Who will roll away the stone for us from the entrance to the tomb?' When they looked up, they saw that the stone which was very large had already been rolled back. As they entered the tomb, they saw a young man, dressed in a white robe, sitting on the right side; and they were alarmed. But he said to them, 'Do not be alarmed; you are looking for Jesus of Nazareth, who was crucified. He has been raised; he is not here. Look, there is the place they laid him. But go, telll his disciples and Peter that he is going ahead of you to Galilee; there you will see him, just as he told you.' So they went out and fled from the tomb, for terror and amazement had seized them; and they said nothing to anyone, for they were afraid.'
(Church in Wales Lectionary, New Revised Standard Version)
---
Thoughts
The four gospel accounts of those who go to Jesus' tomb are similar, yet different. We should remember that they were written 25+ years later of course. Sometimes it's one woman who goes to the tomb, sometimes more, but there are two things that have always struck me as strange. In Mark's Gospel the women are told that Jesus has risen and gone ahead of them to Galilee. What do they do? They run away, and tell no-one, for they are afraid. Similarly in John's Gospel, Peter and the disciple that Jesus loved simply go home.
The bravest of them all seems to be Mary Magdalene who in John's Gospel tells the disciples that she has seen Jesus, although in Luke's gospel she and two other women are simply not believed when they tell the disciples.
It is only when these same disciples see Jesus themselves; when they eat a meal with him; when they encounter him on the beach; and when over 500 people see him, that they begin to believe. Thomas actually has to put his hands into his wounds before he will believe.
What would you have said if this happened to you? Would you go home and shut the door; would you refuse to believe the news; or would you share the good news that Jesus had risen?
---
Prayer
Lord Jesus, risen Lord,
may we who worship You,
have faith enough to believe
that through Your death
and resurrection,
You have united us with God,
who is both one, yet also
Father, Son, and Holy Spirit.
Amen.
---
Follow Up Thoughts
You might like to watch this video of the Easter story from the Thursday to Easter Sunday. It was made for the English market: