Saturday, 7th May 2022: The Spirit brings life
Reading : Verses from John, Chapter 6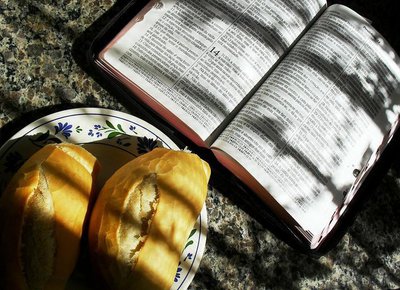 Jesus said to them, 'Those who eat my flesh and drink my blood abide in me, and I in them. Just as the living Father sent me, and I live because of the Father, so whoever eats me will live because of me. This is the bread that came down from heaven, not like that which your ancestors ate, and they died. But the one who eats this bread will live for ever.' He said these things while he was teaching in the synagogue at Capernaum.
When many of his disciples heard it, they said, 'This teaching is difficult; who can accept it?' .... It is the spirit that gives life; the flesh is useless. The words that I have spoken to you are spirit and life.'
Because of this many of his disciples turned back and no longer went about with him.
(Church in Wales Lectionary, New Revised Standard Version)
---
Thoughts
This reading actually starts with the words 'This teaching is difficult; who can accept it?' but I have included the text just before it to make more sense of the passage. The disciples are probably not the only ones who find it difficult.
Many have taken Jesus' words on flesh and blood to be a reference to the bread and wine received in the Communion Service which he initiated the night before his crucifixion at the Last Supper (Luke 22.14-23). But it means something else. The 'bread' is his flesh, and he is speaking of his death. It's a metaphor, in the same way that we saw 'light' and 'dark' recently were images for good and evil. The people of the Middle East at the time, whatever their religion were accustomed to offering a sacrifice to a god, and when they ate part of the animal after the sacrifice, they believed that the spirit of the god entered into them.
Many at the time were to accuse the Christians of being cannibals, but Jesus is simply saying he is to give his life as a sacrifice, and that he is food and drink spiritually, for hungry and thirsty souls. When we ask Jesus Christ to come into our life we truly abide in Jesus, and He in us.
---
Prayer
Lord Jesus Christ,
when we hunger for food for our body,
we can only satisfy that by eating,
May we realise we have the same need
for spiritual food for our soul
that can only be satisfied
by asking You into our life.
For only You can give us eternal life.
Amen.
---
Follow Up Thoughts
For those who would prefer to see a video of this long and very difficult to understand scene from John's Gospel, you might find this video helpful. It uses the King James' text: