Sunday, 3rd October 2021: The Lord cares for His people
Reading : Verses from Isaiah, Chapter 49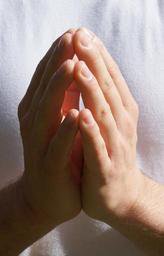 Sing for joy, O heavens, and exult, O earth;
break forth, O mountains, into singing!
For the Lord has comforted his people,
and will have compassion on his suffering ones.
But Zion said, 'The Lord has forsaken me,
my Lord has forgotten me.'
Can a woman forget her nursing child,
or show no compassion for the child of her womb?'
Even these may forget,
yet I will not forget you..
See I have inscribed you on the palms of my hands...
those who wait for me shall not be put to shame.
(Church in Wales Lectionary, New Revised Standard Version)
---
Thoughts
I had a friend who continually wrote phone numbers on her hand. By the end of the day they were covered in blue or black writing. But unlike me (I wrote phone numbers on little scraps of paper without names on them) she always had the names and phone numbers she needed!
In the next few weeks the bible readings on Sunday evenings as we move forward to Advent, think about a time when God will rescue His people. Today's reading from Isaiah, Chapter 49, is about the Messiah who will save God's people. But the people lament that Zion (ie Jerusalem) has been forsaken, because of the people's captivity in Babylon.
Isaiah says to them, as well to us, that God has written each one of us on the palms of His hands - those hands that were to be pierced and broken on the cross when Jesus came to bring us back to God.
---
Prayer
Lord God,
our hands can tenderly cup the head of a baby;
they can hold a newborn kitten;
or tenderly stroke the face of a loved one.
Hands express who and what we are:
the priest who inscribes the cross
on a dying forehead;
the penitent who kneels to pray;
and the supplication of one in need.
May we never forget that our names
are written on God's hands eternally.
Amen.
---
Follow Up Thoughts
Since we are thinking about God's hands you might like to look at what the word 'hand' or 'hands' means in the Bible: