Thursday, 18th November 2021: The branch of Jesse
Reading : Verses from Isaiah, Chapter 11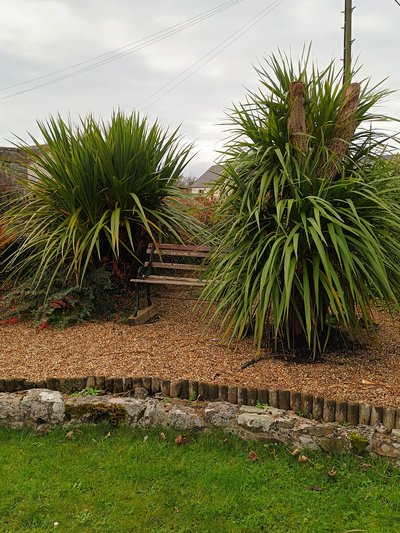 A shoot shall come out from the stock of Jesse,
and a branch shall grow out of his roots.
The spirit of the Lord shall rest on him,
the spirit of wisdom and understanding,
the spirit of counsel and might,
the spirit of knowledge and the fear of the Lord.
His delight shall be in the fear of t he Lord.
He shall not judge by what his eyes see,
or decide by what his ears hear;
but with righteousness he shall judge the poor,
and decide with equity for the meek of the earth....
Righteousness shall be the belt around his waist,
and faithfulness the belt around his loins.
(Church in Wales Lectionary, New Revised Standard Version)
---
Thoughts
About five years ago I had two large cordyline trees in my front garden, near the road. They were showing signs of decay and I had one cut down to the ground, and the other to about 2.5 metres. They were just bare stumps for months and looked dreadful, however, next spring a couple of tiny shoots appeared from the tall tree trunk, and then I noticed some coming up from what appeared to be the dead remnants of the one cut to the ground. Now they are flourishing in a way that has amazed me, as you can see from the picture above.
Isaiah (and the prophet Micah) speak of Israel in the same way. God has pruned the nation. They have been virtually destroyed by the Assyrians, but out of this will come a faithful remnant, and from the house of Jesse (the father of King David) will come one upon whom the spirit of the Lord will rest. This is to be the Messiah, the one whom God will send to rescue His people.
For Christians this refers to Jesus of Nazareth who was born in the line of Jesse and King David, in David's home town of Bethlehem. As we move towards Advent and Christmas, Isaiah reminds us of the lineage of God's rescuer.
---
Prayer
Lord God,
Isaiah saw Your hand in the future of his people -
that You would send a Saviour
to call Your people back to You.
May we never forget that this child
came to call the people of the earth to return to You,
and that He would tread a path of suffering
to achieve Your mission.
Amen.
---
Follow Up Thoughts
If you would like to find out more about Jesse, look up the following site: