Wednesday, 31st March 2021: The betrayer
Reading : Verses from John, Chapter 13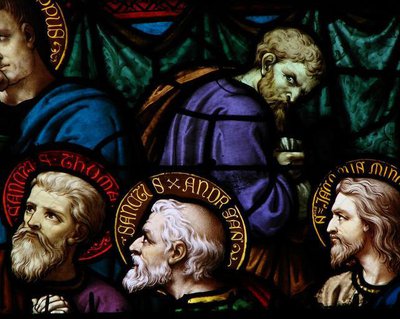 After saying this Jesus was troubled in spirit, and declared, 'Very truly, I tell you, one of you will betray me.' The disciples looked at one another, uncertain of whom he was speaking. One of his disciples - the one whom Jesus loved - was reclining next to him; Simon Peter therefore motioned to him to ask Jesus of whom he was speaking. So while reclining next to Jesus, he asked him, 'Lord, who is it?' Jesus answered, 'It is the one to whom I give this piece of bread when I have dipped it in the dish.' So when he had dipped the piece of bread, he gave it to Judas son of Simon Iscariot. After he received the piece of bread, Satan entered into him. Jesus said to him, 'Do quickly what you are going to do.' Now no one at that table knew why he said this to him. Some thought that, because Judas had the common purse, Jesus was telling him, 'Buy what we need for the festival'; or, that he should give something to the poor. So, after receiving the piece of bread, he immediately went out. And it was night.
(Church in Wales Lectionary, New Revised Standard Version)
---
Thoughts
Here we have the story of the great betrayal. So let us look at Judas. First, we should notice he may not be from Galilee like most of the other disciples. He seems to come from Queriot which is south of Jerusalem, a long way from Galilee. Did this made him a bit of an outsider, even though he is one of the inner circle looking after the joint purse?
Luke comments that he stole from this purse, which might be how he explains the betrayal when the gospel was written years later. Notice that Judas argued the money should have been used for the poor, and the disciples think he might have left to give the money away.
Did Judas feel that betraying Jesus might force him to act in some spectacular way to defeat his enemies? He had seen all of the miracles and knew that the Messiah could achieve God's ends in this way. We cannot assume he carried out this betrayal out of malice, for certainly he immediately regretted his action.
We too need to be careful that we don't do things, believing we know better than God, and should get into the habit of saying, as Jesus did, "yet, not my will but yours be done"
---
Prayer
Lord God,
when we think we are doing Your will,
help us always to refer our plans to You,
remembering that it is Your will
that we should be doing,
and not our own.
Having prayed to You,
give us the courage
to go ahead with our plans.
Amen.
---
Follow Up Thoughts
Four ways we might betray Jesus:
Building our own kingdom - pleasing ourselves, or other people, rather than God. Judas didn't really love Jesus, but wanted to manage what he thought Jesus should be and do.
Trusting in doing good deeds - we can't bribe God with these. If we truly love Jesus and trust in Him, then good works naturally follow. Judas didn't have his heart centred on Jesus though.