Sunday, 4th July 2021: Spreading the Gospel
Reading : Verses from Mark, Chapter 6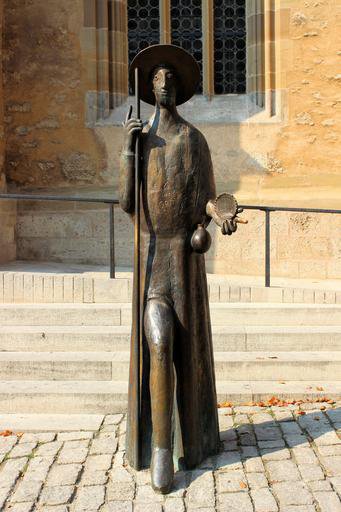 Then Jesus went about among the villages teaching. He called the twelve and began to send them out two by two, and gave them authority over the unclean spirits. He ordered them to take nothing for their journey except a staff, no bread, no bag, no money in their belts; but to wear sandals and not to put on two tunics. He said to them, 'Wherever you enter a house, stay there until you leave the place. If any place will not welcome you and they refuse to hear you, as you leave, shake off the dust that is on your feet as a testimony against them.' So they went out and proclaimed that all should repent. They cast out many demons, and anointed with oil many who were sick and cured them.
(Church in Wales Lectionary, New Revised Standard Version)
---
Thoughts
Many years ago when work was occurring to strengthen Worcester cathedral, a forest of pillars was discovered underneath the floor in the Crypt. In my first week after being priested I presided at the Eucharist there. It was an amazing site with tiny arches connecting dozens of pillars. At the time the stonemasons didn't have the ability to create large arches. They did create an ambulatory, but the space in front of the altar was small before the pillars got in the way.
During the work they also discovered the skeleton of a pilgrim. The man had presumably travelled to Worcester to worship, perhaps to atone for some sin. He was found with the remains of a cloak, boots, a scrip (a bag), a staff and a shell (the emblem of a pilgrim). Like the disciples before him he would have travelled fairly simply, although in his case he did have a bag and which to place any food he was given, and boots (which would be more suitable to our climate).
Christian pilgrims and missionaries have usually travelled in twos, for safety and for support, and relied on the goodwill of others to feed and house them. The disciples were to spread the Good News of the Gospel of Christ throughout the world. We may not be called to be a missionary or a pilgrim, but we are called to encourage others to turn to God. Perhaps we can start with prayer!
---
Prayer
Heavenly Father,
teach us how to encourage others
to turn to You.
Give us the courage
to invite others to learn about You,
and to come to Church.
Let us not assume that someone else
will do this,
but to realise that all of us are called
to spread the Good News today.
Amen.


---
Follow Up Thoughts
If you would like to find out more about the pilgrim who was buried in Worcester Cathedral look up the following interesting article: