Thursday, 1st July 2021: Restored by faith
Reading : Verses from Luke, Chapter 18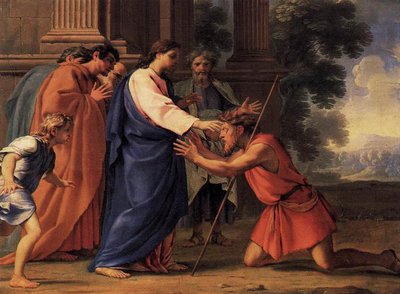 As Jesus approached Jericho, a blind man was sitting by the roadside begging. When he heard a crowd going by, he asked what was happening. They told him, 'Jesus of Nazareth is passing by.' Then he shouted, 'Jesus, Son of David, have mercy on me!' Those who were in front sternly ordered him to be quiet; but he shouted even more loudly, 'Son of David, have mercy on me!' Jesus stood still and ordered the man to be brought to him, and when he came near, he asked him, 'What do you want me to do for you?' He said, 'Lord, let me see again.' Jesus said to him, 'Receive your sight; your faith has saved you.' Immediately he regained his sight and followed him, glorifying God; and all the people, when they saw it, praised God.
(Church in Wales Lectionary, New Revised Standard Version)
---
Thoughts
What is faith? It's not something we think about often, probably, but let's look at it now. Firstly, faith has two different aspects. It requires us to believe that something is true, and it also requires us to put our trust in that thing. These are two separate things.
One way of explaining this is to think of a chair. We can look at a chair and know that the chair is a chair and we use a chair to sit on. Trust is actually sitting in the chair!
So we may read the stories about Jesus, and understand what it says about him. But knowing that Jesus died on a cross to pay for our sins and was resurrected is something that is true, but its not what faith is all about. Belief is not enough; we still need the trust bit! In other words we need to put our belief into action and fully trust in Jesus four our salvation. This starts with saying sorry for our sin, and slowly become transformed into the kind of person God wants us to be.
In Luke's Gospel many of the healings, like that of the blind man above, are carried out by Jesus because of an individual's faith, and Jesus says: "Go, your faith has made you whole"
---
Prayer
Lord Jesus,
give us true faith:
to know, to believe,
and to have real trust in You,
that we may confess our sin,
change our life,
and become the person
You wish us to be,
Amen.
---
Follow Up Thoughts
You might like to look up these two healings that concern the individual's faith: