Thursday, 14th January 2021: Real faith
Reading : Verses from Mark, Chapter 1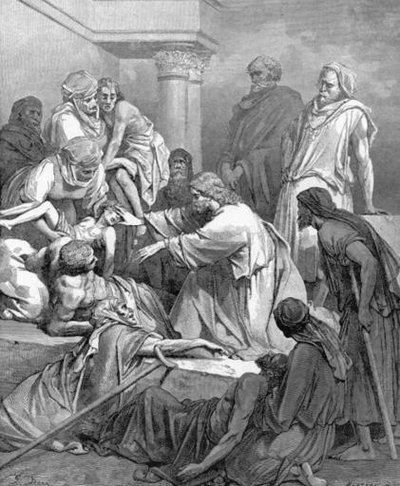 A leper came to Jesus begging him, and kneeling he said to him, 'If you choose, you can make me clean.' Moved with pity, Jesus stretched out his hand and touched him, and said to him, 'I do choose. Be made clean.' Immediately the leprosy left him, and he was made clean. After sternly warning him he sent him away at once, saying to him, 'See that you say nothing to anyone, but go show yourself to the priest, and offer for your cleansing what Moses commanded, as a testimony to them.'
---
Thoughts
Leprosy is an awful disease still very prevalent today. It starts with small patches on the skin that lose their sensation, and it can lead to ulcers, infection, and permanent disability. It develops slowly, symptoms taking anything from five years to twenty years to develop.
We don't know the effects of the leprosy on the man who comes for healing, but we are told that Jesus had pity on him, so they may have been visible. The most notable thing is that the man has real faith that Jesus can heal him. "If you choose you can heal me," he says.
I believe that God heals us today through the work of our doctors and through medical science, and He also chooses to perform miracles. At others times we pray for healing and God doesn't seem to answer. We then need to realise that the answer may be "No!" and that God's plans are different to ours. But, there's no reason to stop having real faith, and praying fervently!
---
Prayer
Lord Jesus,
You were moved to pity
by the man with leprosy.
May we be moved to pity
for all who are sick.
Today, we pray for
................... (add people's names or sicknesses),
and ask for Your healing power
to be laid upon them.
Amen.
---