Monday, 22nd November 2021: Nothing need be hidden
Reading : Verses from Matthew, Chapter 9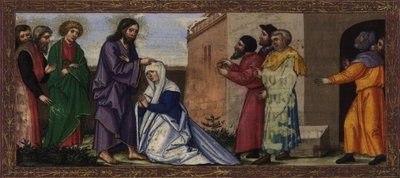 Jesus got up... with his disciples. Then suddenly a woman who had been suffering from haemorrhages for twelve years came up behind him and touched the fringe of his cloak, for she said to herself, 'If I only touch his cloak, I will be made well.' Jesus turned, and seeing her he said, 'Take heart, daughter; your faith has made you well.' And instantly the woman was made well.
(Church in Wales Lectionary, New Revised Standard Version)
---
Thoughts
The book of Leviticus in the Hebrew Scriptures (our Old Testament) mentions the word 'unclean' 90+ times. In Leviticus 10.10 the Law of Moses says 'You are to distinguish between the holy and the common, and between the unclean and the clean.' This passage looks at animals, food and people who are 'unclean'. When people worshipped God they were to be as clean as possible and temporary bans of worship are laid on those seen as being unclean. Some of the laws are sensible. If you had a rash that might be something serious, it was a good idea to keep away from people until the priest said you could rejoin others to worship.
One of these purity law concerns blood. This was seen as the source of life in a person or animal. So the woman who comes to Jesus has been unclean for twelve years. Anyone who touched her or anything she sat or lay upon became unclean until night-time; they must wash their clothes; and they remained unclean until that night. So this woman was effectively an outcast for 12 years. In her desperation and shame the woman surreptitiously approaches Jesus, not wanting others to know of her problem, but Jesus will not allow such things to happen in the dark, and stops to heal her and bring the healing into the light. Her faith has cured her.
We should never fear to take whatever it is that causes us shame to Jesus, who knows all our secrets, and will hear and answer our prayer.
---
Prayer
Lord Jesus,
may we come to You openly and honestly,
for You know all our concerns and worries.
Help us to have the faith to believe
that You can heal us of those things
that we keep secret to ourselves,
and then enable us to live a new life.
Amen.
---
Follow Up Thoughts
If you are feeling keen today, you might like to look at this site to discover more about ritual cleanliness across a number of religions, including Christianity: