Thursday, 5th August 2021: Mark - 4
Reading : Verses from Mark, Chapter 1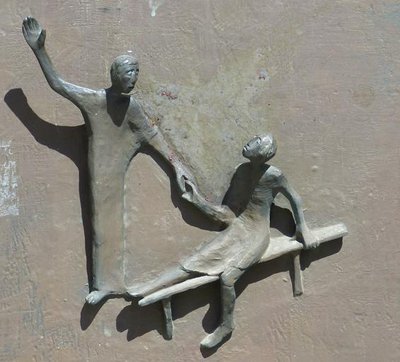 As soon as they left the synagogue, they entered the house of Simon and Andrew, with James and John. Now Simon's mother-in-law was in bed with a fever, and they told him about her at once. He came and took her by the hand and lifted her up. Then the fever left her, and she began to serve them.
That evening, at sundown, they brought to him, all who were sick or possessed with demons. And the whole city was gathered around the door. And he cured many who were sick with various diseases, and cast out many demons, and he would not permit the demons to speak, because they knew him.
(Church in Wales Lectionary, New Revised Standard Version)
---
Thoughts
Church tradition says that the Apostle Peter (known as Simon originally) was the main source for Mark's Gospel, and we might think of it as 'The Gospel According to Peter'. The accounts in this Gospel are full of eyewitness detail, and there are more words in Aramaic (the language that Peter and Jesus used), than in the other Gospels - for instance 'Abba' is used by Jesus when speaking to God. This is a familiar name for 'Father' - rather more like 'Daddy'. But on the other hand Mark writes for Romans who may not understand Judaism, and he uses more Latin words and phrases than the other Gospels, words like 'census' and 'centurio'.
This day started with time in the Synagogue with teaching and a healing, and continues with Jesus healing Simon's mother-in-law in their tiny house in Capernaum. We should notice a few things, firstly that Jesus simply responds to all these cries for healing. There is no magic ritual involved as prescribed by local Jewish exorcists of the time, just a voice of authority saying "Come out of him!" Secondly, after the Sabbath restrictions had ended at sunset, the people are able to travel and now come to Jesus in great numbers from around the whole area, and he continues healing late into the evening, putting the people's needs before his own.
Jesus came to serve, not to be served, and we too are called to put ourselves second and minister to others, as we are able!
---
Prayer
Lord Jesus,
as You came to serve
and not be served,
may we follow Your example
and put the welfare of others
before our own desires.
May we learn to serve others
in any way that we can.
Amen.
---