Wednesday, 16th November 2022: Healing of a leper
Reading : Verses from Matthew, Chapter 8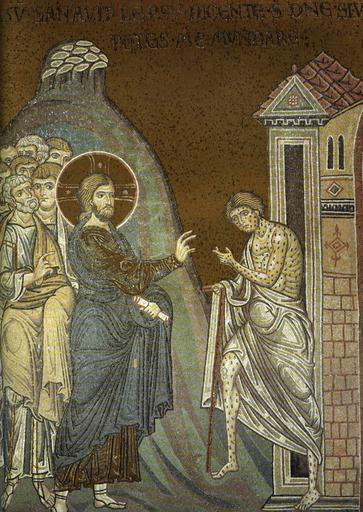 When Jesus had come down from the mountain, great crowds followed him; and there was a leper who came to him and knelt before him, saying, 'Lord, if you choose, you can make me clean.' He stretched out his hand and touched him, saying, 'I do choose. Be made clean!' Immediately his leprosy was cleansed. Then Jesus said to him, 'See that you say nothing to anyone; but go, show yourself to the priest, and offer the gift that Moses commanded, as a testimony to them.
(Lectionary, New Revised Standard Version)
---
Thoughts
If we look at this little miracle of the healing of the man with leprosy there are a number of things that come to mind. Firstly, Jesus was taking an enormous risk since he was breaking an absolute fundamental law (see Leviticus 13.1-17). When someone became a leper their clothes and house were destroyed by fire, and they were forced to live outside society and forbidden from coming near anyone who was not a leper, by shouting "Unclean, unclean". More horrible was the fact that it was believed the sufferer was also abandoned by God. Secondly, anyone coming into contact with a leper might not just become physical infectious, they also became ceremonially unclean which had serious consequences in terms of not being able to attend worship.
Yes despite this, the leper makes his way into the crowd and Jesus, we are told, put his hand out and "touched him". According to the law he was immediately ceremonially unclean. In this one action and in the healing that follows Jesus demonstrates that He is master of the Law of Moses and in an instant he restores the man to a right relationship with God and man.
If we have ever been in doubt about who Jesus was, we should remind ourself of this healing that involved not just Jesus and the leper, but the whole crowd of people who had joined him.
---
Prayer
Lord Jesus Christ,
let us never forget
that You are Lord of all,
including the Law.
We cannot curtail You
to a picture of a man,
for You are the Creator
and can heal whom You will.
Amen.
---