Wednesday, 14th April 2021: God so loved the world
Reading : Verses from John, Chapter 3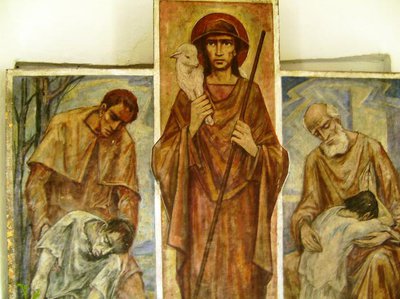 'For God so loved the world that he gave hs only Son, so that everyone who believes in him may not perish but may have eternal life.
'Indeed, God did not send the Son into the world to condemn the world, but in order that the world might be saved through him. Those who believe in him are not condemned; but those who do not believe are condemned already, because they have not believed in the name of the only Son of God. And this is the judgement, that the light has come into the world, and people loved darkness rather than light because their deeds were evil.'
(Church in Wales Lectionary, New Revised Standard Version)
---
Thoughts
Many Christians think of God in the Old Testament as a God of judgement, and compare Him to the picture of a 'gentle Jesus, meek and mild'. We have totally distorted the whole picture of God, though. For a start Jesus was not meek and mild, after all he challenged the religious and civil authorities of the day in no small way, and God cannot be written off as 'judgemental'. It almost sounds as though we have decided there are two Gods, one bad and one good!
So let's look at the picture again: God decides to create the world (for me that means He initiates the 'big bang') out of sheer love. He makes an agreement (a covenant) with a small tribe of people, but they continually break their word and turn away from him. Finally, God decides to send His Son, Jesus, to help reconcile them and through them the whole world, to Himself.
God cares for us so much that He sends His beloved Son (a part of Himself) to offer us all a way forward and new life in Him. That is how much God loves us!
---
Prayer
Heavenly Father,
we thank You that You love us
so much that You created
a way for us to return to You.
May we desire the light and goodness
offered by Your Son,
and continue to grow in faith
throughout the rest of our life.
Amen.
---
Follow Up Thoughts
You might like to listen to a recording of this well-known anthem based on the words 'God so loved the world' above, by Stainer. I have chosen a setting with the sheet music, so if you know it you could sing along! :