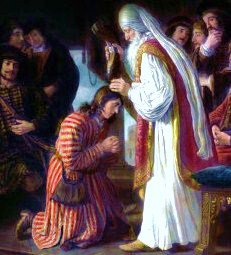 The Lord said to Samuel, 'How long will you grieve over Saul? I have rejected him from being king over Israel. Fill your horn with oil and set out; I will send you to Jesse the Bethlehemite, for I have provided for myself a king among his sons.....Take a heifer with you, and say, "I have come to sacrifice to the Lord." Invite Jesse to the sacrifice, and I will show you what you shall do; and you shall anoint for me the one whom I name to you....
Jesse made seven of his sons pass before Samuel, and Samuel said to Jesse, 'The Lord has not chosen any of these'. Samuel said to Jesse, 'Are all your sons here?' And he said, 'There remains yet the youngest, but he is keeping the sheep.' .....Then the Lord said, 'Rise and anoint him; for this is the one.'
Then Samuel took the horn of oil and anointed David in the presence of his brothers; and the spirit of the Lord came mightily upon David from that day forward.
(Church in Wales Lectionary, New Revised Standard Version)