Friday, 23rd April 2021: God calls Saul
Reading : Verses from Acts, Chapter 9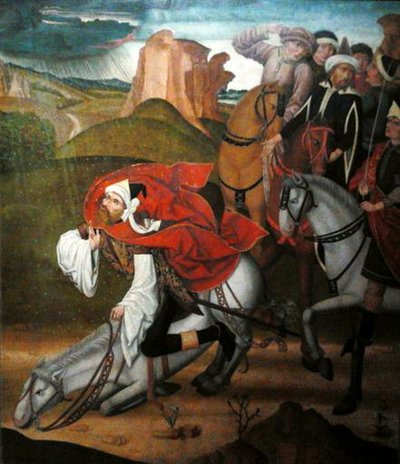 Meanwhile Saul, still breathing threats and murder against the disciples of the Lord, went to the high priest and asked him for letters to the synagogues at Damascus, so that if he found any who belonged to the Way, men or women, he might bring them bound to Jerusalem.
Now as he was going along and approaching Damascus, suddenly a light from heaven flashed around him. He fell to the ground and heard a voice saying to him, 'Saul, Saul, why do you persecute me?' He asked, 'Who are you, Lord?' The reply came, 'I am Jesus, whom you are persecuting. But get up and enter the city, and you will be told what to do.' The men who were travelling with him stood speechless because they heard the voice but saw no one.
Saul got up from the ground, and though his eyes were open, he could see nothing; so they led him by the hand and brought him into Damascus.
(Church in Wales Lectionary, New Revised Standard Version)
---
Thoughts
Over the years I have often heard people argue against the existence of God. If I'm wearing my dog collar, or people know I'm a Christian, then often the subject occurs. It's the equivalent of being a Doctor - people always want to discuss their health! Often the discussions become arguments, which has always struck me as strange. Why get cross over something you don't believe in? It seem to me that those who get loudest about the non-existence of God are those actually coming to faith. The nearer they get to answering God's call the more vociferous they seem to become!
Hold this thought in your mind while we look at Saul (later called Paul). When the first martyr, Stephen, is stoned the witnesses 'laid their coats at the feet of a youg man maned Saul' (Acts 7.58) and when he died we read that 'Saul approved of their killing him' (Acts 8.1). As the new church suffers severe persecution we read that 'Saul was ravaging the church by entering house after house, dragging off both men and women... (and committing)... them to prison' (Acts 8.3).
Now we're told Saul seeks to take the persecution to Damascus! Finally, he and the people with him, experience a blinding light and he hears Jesus' voice. At last he is ready to listen to God! Imagine how appalled he must have been for the rest of his life at his previous actions, even knowing that he was forgiven, and that he had been called to a new life.
---
Prayer
Lord God,
when we try to avoid hearing Your call
and go our own way,
breaking every commandment
and only doing what we want,
encourage us back to follow Your way,
and not our own way;
and forgive us.
Amen.
---
Follow Up Thoughts
If you would like to learn more about St Paul, look up the following site: