Thursday, 29th April 2021: Following the example of Jesus
Reading : Verses from John, Chapter 13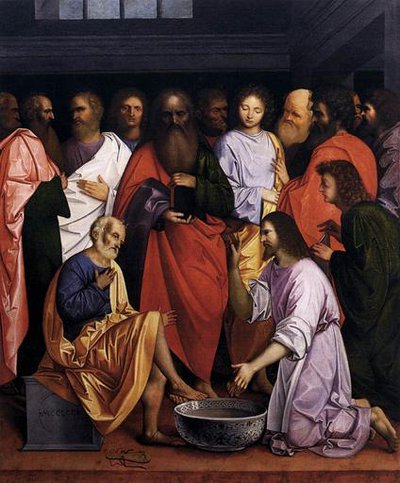 Jesus said... 'For I have set you an example, that you also should do as I have done to you. Very truly, I tell you, servants are not greater than their masters, nor are messengers greater than the one who sent them. If you know these things, you are blessed if you do them....'
Church in Wales Lectionary, New Revised Standard Version
---
Thoughts
This passage in John's Gospel comes straight after Jesus washes the disciples' feet, taking the job of a slave or servant who customarily washed the feet of those who had trudged along dusty roads, when they entered a house. The disciples were shocked that their Lord and master would stoop to do this work, and Peter tries to stop Jesus. But this humble act of giving to the disciples only foreshadows the greater act of humility, that of choosing to die on a cross for all humanity.
Jesus says he has set us an example, and we should do as he has done - we should act humbly - certainly not like Uriah Heep in Dickens' novel 'David Copperfield', whose very name is synonymous with insincerity. He constantly refers to his own "umbleness" and his sickening flattery of others, as well his very appearance, makes one's stomach curl.
The difficulty is that as Christians we can agree with the notion of humility, but do we act humbly. Do we seek to take on the jobs that need to be done, but will never receive thanks from anyone? Do we gratefully accept what Jesus has done for us, but fail to follow the example he has set for us?
---
Prayer
Lord Jesus,
sometimes we are happy to accept
all that You have done for us,
but fail to follow Your example
of giving loving service to others.
May we learn to believe
and act in the way that
You would have us act,
both now and in the future.
Amen.
---
Follow Up Thoughts
For those who seriously want to look at the subject of Humility you could read the following academic article by Dr Anna Katharina Schaffner, with Exercises!