Saturday, 25th September 2021: Elijah: 3
Reading : Verses from 1 Kings, Chapter 19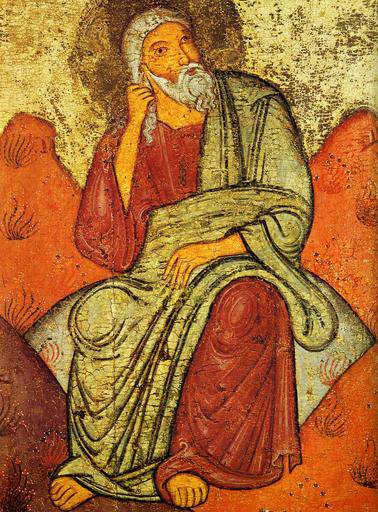 Then Elijah was afraid; he got up and fled for his life...he went a day's journey into the wilderness, and came and sat down under a solitary broom tree. He asked that he might die. 'It is enough; now, O Lord, take away my life, for I am no better than my ancestors.' Then he lay down under the broom tree and fell asleep. Suddenly an angel touched him and said to him, 'Get up and eat.' He looked, and there at his head was a cake baked on hot stones, and a jar of water.... 'Get up and eat, otherwise the journey will be too much for you.' He got up, and ate and drank; then he went in the strength of that food for forty days and forty nights to Horeb the mount of God. At that place he came to a cave, and spent the night there.
Then the word of the Lord came to him, saying, 'What are you doing here, Elijah? He answered, 'I have been very zealous for the Lord, the God of hosts; for the Israelites have forsaken your covenant, thrown down your altars, and killed your prophets with the sword. I alone am left, and they are seeking my life, to take it away.'
He said, 'Go out and stand on the mountain before the Lord, for the Lord is about to pass by.' Now there was a great wind, so strong that it was splitting mountains and breaking rocks in pieces before the Lord, but the Lord was not in the wind; and after the wind an earthquake, but the Lord was not in the earthquake; and after the earthquake a fire, but the Lord was not in the fire, and after the fire a sound of sheer silence....Then there came a voice to him...the Lord said to him, 'Go, return on your way to the wilderness of Damascus; when you arrive, you shall anoint....Nimshi king over Israel, and you shall anoint Elisha son of Shaphat as prophet in your place.
(Church in Wales Lectionary, New Revised Standard Version)
---
Thoughts
We continue with the story of Elijah. After the amazing demonstration of God's power against the pagan god Baal, Queen Jezebel seeks the prophet's life. From the exhilaration of the events on Mount Carmel when Elijah believes that the people will return to God, he realises that this is not to happen, and we see him now in the depths of the wilderness. In his depression he complains to God and asks Him to let him die. But God has another task for him and he is persuaded to move from complaint to obedience. From the wilderness he travels south to Israel and Mount Sinai.
Here we get one of the most famous incidents. God passes by Elijah in the fierce wind, the earthquake and the fire, rather like he had once appeared to Moses on this holy mountain. But when Elijah moves to the mouth of the cave and waits in silence, it is then that God speaks. It is then that he reassures him that there are still 7,000 faithful people in Israel, and he gives him a new task.
When we are discouraged or depressed it is time to realise that God is still in control. At such times we need to stop and listen for God's voice, for he will speak (as a voice, through others, for instance), and only when we are really tuned into him will we hear that voice. Just be still and prayerfully wait.
---
Prayer
Lord God,
when we are fed-up
and feel that we have failed,
help us not run away from You.
Encourage us to listen for Your still small voice
and to Your plans for our future,
for You require obedience not success.
Amen.
---
Follow Up Thoughts
Listen to this modern song based on the "still small voice". It's by Johan Glidden
Or this traditional hymn, 'Dear Lord and Father of mankind' from Westminster Abbey, with lyrics: