Wednesday, 22nd September 2021: Elijah: 1
Reading : Verses from 1 Kings, Chapter 17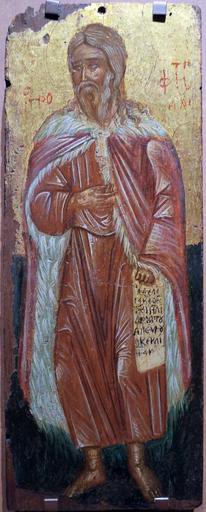 Then the word of the Lord came to Elijah the Tishbite of Tishbe in Gilead, saying, 'Go now to Zarephath, which belongs to Sidon, and live there; for I have commanded a widow there to feed you. So he set out and went to Zarephath. When he came to the gate of the town, a widow was there gathering sticks; he called to her and said, 'Bring me a little water in a vessel, so that I may drink.' As she was going to bring it, he called to her and said, 'Bring me a morsel of bread in your hand.' But she said, 'As the Lord your God lives, I have nothing baked, only a handful of meal in a jar, and a little oil in a jug; I am now gathering a couple of sticks, so that I may go home and prepare it for myself and my son, that we may eat it, and die.' Elijah said to her, 'Do not be afraid, go and do as you have said; but first make me a little cake of it and bring it to me, and afterwards make something for yourself and your son. For thus says the Lord the God of Israel: The jar of meal will not be emptied and the jug of oil will not fail until the day that the Lord sends rain on the earth.'
(Church in Wales Lectionary, New Revised Standard Version)
---
Thoughts
The prophet Elijah lived in the northern kingdom of Israel around the 9th century BCE. It was a crucial time for the nation, as the priests of Baal flourished, and the worship of God had gone underground. It looked as though the God of Israel would be forgotten. But at this time God calls Elijah, and through his fervent prayer He sends a drought upon the land. The pagan god Baal was thought to be the god of the sky and weather, so this would be seen as an attack upon him.
God moves Elijah to safety, but when the water dries up in the river He sends him to Zarephath to meet a widow who will help him. This would have been terrifying, for he is going into the heart of enemy territory. However, he still goes, believing it's what God wants and that He will protect him.
Widows are the poorest people in society, so when Elijah meets this Gentile woman he only asks for water. But finally putting his faith in God's words he asks for more. We can see she knows that Elijah is a worshipper of the God of Israel, yet she helps him even though it will leave her and her son with no food and put them in danger from the supporters of Baal. She too puts her faith in Almighty God, and supplies the prophet with food!
---
Prayer
Heavenly Father,
all too often we take Your existence for granted,
and try to manage alone.
Unlike Elijah and the widow we are not called to have courage,
but we are called to be steadfast in faith,
even though our world seems to ignore You.
Help us to grow ever closer to You,
and to encourage those around us to reach out to You.
Amen.
---