Saturday, 3rd April 2021: Easter Eve
Reading : Verses from John, Chapter 19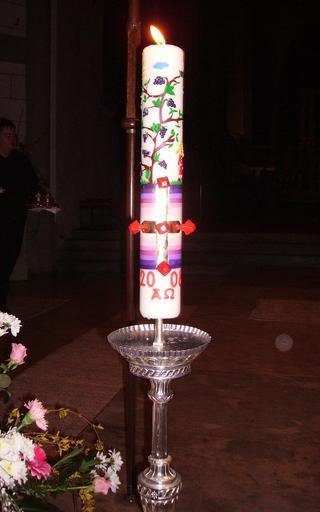 After these things, Joseph of Arimathea, who was a disciple of Jesus, though a secret one because of his fear of the Jews, asked Pilate to let him take away the body of Jesus. Pilate gave him permission, so he came and removed his body. Nicodemus, who had at first come to Jesus by night, also came, bringing a mixture of myrrh and aloes, weighing about a hundred pounds. They took the body of Jesus and wrapped it with the spices in linen cloth, according to the burial customs of the Jews. Now there was a garden in the place where he was crucified, and in the garden there was a new tomb in which no one had ever been laid. and so because it was the Jewish day of Preparation and the tomb was nearby, they laid Jesus there.
(Church in Wales Lectionary, New Revised Standard Version)
---
Thoughts
Do you know that moment when everything is still, just before the dawn chorus, and it's as though the whole world is waiting for something to happen? Then you will know what Easter Eve, the day before Easter Day, is like. All the agony and anguish is over, all the plans and promises have come to nothing. The body of Jesus cannot be left on the cross over the Passover, and one of his followers, Joseph of Arimathea, places him hurriedly in a nearby new tomb.
For most of us this is the last day to prepare for Easter Sunday, either at home or in church, but in the Orthodox Church this day is different. Many Christians see Christmas as the major festival, but the Orthodox Church sees Easter as the most important festival of the Christian year. Known as the Easter or Paschal Vigil or the Great Vigil of Easter, it's the first official celebration of the Resurrection of Jesus. During the service people are traditionally baptized and adults received into full communion. The service is held between sunset and sunrise. After the weeks of austerity, all is colour and light. At midnight the noise of hundreds of bells ring out across villages and towns as the Easter morning approaches.
Might we find time today, to set aside some time to be still and reflect on all that has happened to our Lord, and to prepare ourselves for the glories of Easter Sunday and the Resurrection?
---
Prayer
Lord Jesus, when all seems over,
when the turmoil of Your earthly life has finished,
may we ponder on all that has happened
to You during this week.
May we also rest in the knowledge
of Your promise that all is not lost,
and wait for the day to come,
in peace and hope.
Amen.
---
Follow Up Thoughts
I attach below a link to a simple service from Salisbury Diocese to be said at home or church, but you might just like to spend a few moment on your own silently reading through it sometime on Saturday evening: