Thursday, 22nd April 2021: Drawn to God
Reading : Verses from John, Chapter 6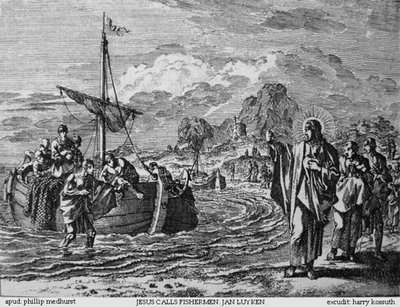 Jesus said, 'No one can come to me unless drawn by the Father who sent me; and I will raise that person up on the last day. It is written in the prophets, "And they shall all be taught by God." Everyone who has heard and learned from the Father comes to me. Not that anyone has seen the Father except the one who is from God; he has seen the Father. Very truly, I tell you, whoever believes has eternal life.'
(Church in Wales Lectionary, New Revised Standard Version)
---
Thoughts
Over the centuries there have been many discussions about the people that God calls and why some are not called! It has not, I think, reflected well on Christianity. I go back to an image I have used before: Imagine a family that includes three teenagers. They have decided to go to the seaside for the day. In the morning Dad calls the children downstairs. Nothing happens, and he calls again. Eventually the youngest, who is 15 years old, appears. There is no sign of the older children.
In our reading today Jesus uses a word taken from fishing. He says that people are 'drawn' by the Father, and it implies the act of pulling a heavy net of fish up from the sea. The act of drawing indicates that there is some kind of resistance. Out of his love God calls us to Himself, despite our sin and the fact we don't deserve it, but like the teenagers many of us resist Him or ignore His call. We also know that it can take people five or six good experiences concerning God or the Church, often over a long period of time, before people make a positive response to God's call.
So, we need to keep praying for others, that they will hear God's call, and answer it.
---
Prayer
Heavenly Father,
Your Son Jesus taught us that
You call us with chords of love,
and that You teach us about Yourself.
May we continue to hear Your call and respond,
to learn more about You.
May we also care enough about others
to pray they may hear Your call.
Amen,
---
Follow Up Thoughts
You might like to look up Dr Donna Hart's blog that explores ways that God calls us: