Saturday, 30th April 2022: Devoting ourselves to prayer
Reading : Verses from Colossians, Chapter 4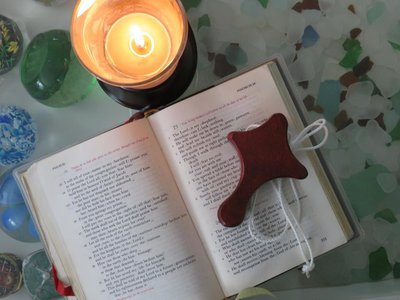 Devote yourselves to prayer, keeping alert in it with thanksgiving. At the same time pray for us as well that God will open to us a door for the word, that we may declare the mystery of Christ, for which I am in prison, so that I may reveal it clearly, as I should.
Conduct yourselves wisely towards outsiders, making the most of the time. Let your speech always be gracious, seasoned with salt, so that you may know how you ought to answer everyone.
(Church in Wales Lectionary, New Revised Standard Version)
---
Thoughts
Many families today have taken communication to a new level. It's quite normal to see four or five people in a room all on their individual phones or ipads, listening to music or reading text, also watching the television at the same time and occasionally even speaking to one another. Now not all of us do this, but certainly I work on my computer and often also half watch and half listen to the television at the same time, so I'm getting there!
In our reading today St Paul (or possibly one of his disciples) is writing to the Colssians about the importance of prayer. Probably written around 62 CE from Rome to the church which was established by Epathras, he says these new Christians should devote themselves to prayer. Prayer we might say, is at the heart of the Christian life.
The problem for us today is that prayer requires us to concentrate on only one thing - on drawing closer to God. When we're in conversation with Him we cannot be distracted by other things, unless they help us to achieve this. So the question is can we find peace and quiet, put all the distractions on one side, and simply come before God? Can we speak to Him and Him alone, and listen only for His still small voice?
---
Prayer
Heavenly Father,
our world is full of noise and activity,
and we flit from one piece of technology
to another.
Help us to use our time profitably
to draw closer to You,
and not be distracted by things around us
when we come before You.
Amen.
---
Follow Up Thoughts
You might like to use one of these pictures as an aid to devotion to help you pray:
or explore how to quieten your mind before prayer: