Thursday, 9th July 2020: Can we see?
Reading : Verses from Luke, Chapter 18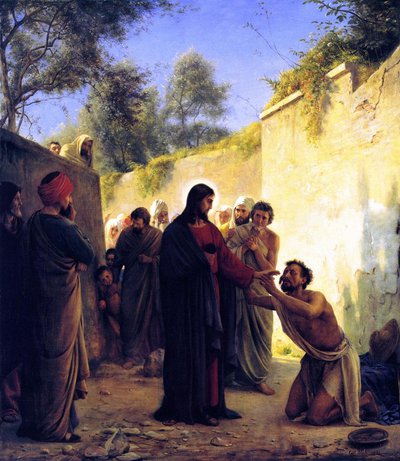 As Jesus approached Jericho, a blind man was sitting by the roadside begging. When he heard a crowd going by, he asked what was happening. They told him, 'Jesus of Nazareth is passing by.' Then he shouted, 'Jesus, Son of David, have mercy on me!' Those who were in front sternly ordered him to be quiet; but he shouted even more loudly. 'Son of David, have mercy on me!' Jesus stood still and ordered the man to be brought to him; and when he came near, he asked him,'What do you want me to do for you?' He said, 'Lord, let me see again.' Jesus said to him, 'Receive your sight; your faith has saved you.' Immediately he regained his sight and followed him, glorifying God; and all the people, when they saw it praised God.
(New Revised Standard Version)
---
Thoughts
There is so much to learn from this tiny story of the Healing of the Blind Man. It is quite amazing:
Jesus is travelling to Jerusalem, Jericho is the last big village or town before climbing the steep hills where the story of the Good Samaritan takes place. He knows he is on his way to his death, and nothing will stop him now.
Yet, Jesus does stand still when he hears the cry from the blind man.
The man persists. He doesn't give up when he gets no answer the first time.
The man calls him - "Jesus, Son of David!" This is one of seven titles given to the Messiah!
The man asks "Have mercy on me!" He doesn't initially ask for healing, but for mercy - in other words for forgiveness.
The man has total faith in Jesus, and calls him "Lord!"
Once he is healed the man glorifies God.
The healing of the blind man is about physical and spiritual healing, and about complete faith and absolute trust in Jesus. The story can lead us to question whether we see Jesus in this way - do we have faith and trust in the risen Christ. It can also challenge us to look at ourselves and question whether we need spiritual healing.
---
Prayer
Lord Jesus,
You recognised the blind man's faith,
and his need for forgiveness and healing.
He persisted in asking for Your mercy,
even when others ordered him to be quiet.
Help us to have such faith;
to acknowledge our mistakes;
and to be persistent in prayer.
Amen.