Sunday, 21st February 2021: Calling on God
Reading : Verses from Romans, Chapter 10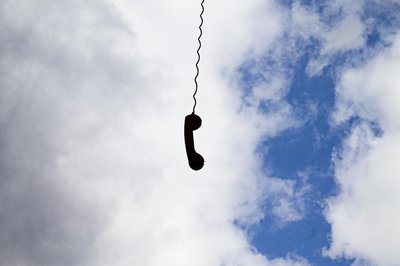 'The word is near you, on your lips and in your heart.' (that is, the word of faith that we proclaim); because if you confess with your lips that Jesus is Lord and believe in your heart that God raised him from the dead, you will be saved. For one believes with the heart and so is justified, and one confesses with the mouth and so is saved....for, 'Everyone who calls on the name of the Lord shall be saved.'
Church in Wales Lectionary, New Revised Standard Version
---
Thoughts
I have a mobile phone like most people, but I can never hear the phone ring. In a house I might be in the wrong room, or in the garden or garage, so if it rings it goes unanswered. After all if you live at home you really don't walk round with a bag over your shoulder holding the phone, and most of my clothes don't have pockets. Instead I use my phone to send and receive emails and text messages, or to use the internet to look up things, oh yes, and to play hymns for the congregation in church by connecting it to my big blue-tooth speaker. I'm sure that people get fed up trying to contact me via my mobile phone.
St Paul in his Letter to the Romans says that if we believe in Jesus and trust that he was raised from the dead then when we call on Him, we shall be saved. Unlike my phone, He will respond, every time!
---
Prayer
Lord Jesus,
increase our faith,
and when things are dark
and difficult,
be close to us
and answer our petitions.
as is best for us.
Amen.
---
Follow Up Thoughts
The following article on "What does it mean to be saved by grace?" is from the website 'Got Questions'. If you want to look up more, see: https://www.gotquestions.org/saved-by-grace.html
You might also like to listen to Susan Boyle singing 'Amazing Grace'. See: https://youtu.be/A0gLntLIBYw
Question: "What does it mean to be saved by grace?"

Answer: Amazing grace—how sweet the sound—
That saved a wretch like me!
I once was lost but now am found,
Was blind but now I see.

The words of this famous hymn by John Newton seem to resonate with people of all theological persuasions: it is performed in churches of all kinds, from evangelical Christian, to Roman Catholic, to mainline liberal, to Mormon. It has been recorded by countless artists from Johnny Cash and Elvis Presley, to the Three Tenors, to Rascal Flatts and Alan Jackson. The concept of (or at least the word) grace is firmly planted in our culture.

The concept of Grace as found in the Bible is multifaceted, but it can be summed up in the definition "undeserved favour." The Bible says that we are saved by grace. The grace of God is expressed by God's forgiveness of our sins, and His blessings to us include peace and fulfilment in this life and, in the life to come, unencumbered fellowship with Him for all eternity. Just as the song "Amazing Grace" has gained almost universal acceptance, it is difficult to find any religious expression with roots in Christianity that does not extoll the virtues of grace. No one with even minimal exposure to Christianity would be so crass as to claim that he has lived a life of such sterling character that God owes him eternal life. The vast majority will admit that they have shortcomings and are in need of God's grace in some form.