Friday, 10th September 2021: Bearing good fruit
Reading : Verses from Luke, Chapter 6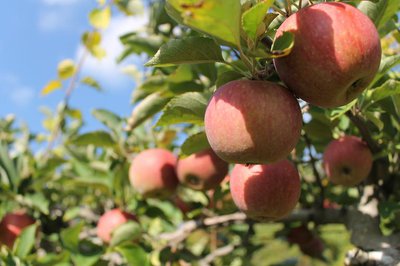 Jesus said 'No good tree bears bad fruit, nor again does a bad tree grow good fruit; for each tree is known by its own fruit. Figs are not gathered from thorns, nor are grapes picked from a bramble bush. The good person out of the good treasure of the heart produces good, and the evil person out of evil treasure produces evil; for it is out of the abundance of t he heart that the mouth speaks.
(Church in Wales Lectionary, New Revised Standard Version)
---
Thoughts
I like to think that Jesus had done some gardening, for he certainly understood nature. It's not just that you cannot pick grapes from a blackberry bush, but the fact that unless the plant is healthy it simply won't produce good fruit. If it's planted in the wrong place, or in the wrong soil, its fruit may be small and stunted.
A few years ago I planted four "patio fruit trees" in the garden. One apple tree grew well as a cordon plant with lots of red apples, the other apple not very well and it produced little fruit. The third one, a cherry tree, decided it was a full-sized tree and I have never tasted the cherries as the birds eat them first! The fourth tree which I think is a pear tree, produced a small 'stick' around two feet long with two leaves, but nothing else. I might add it's all on sloping ground. (This sounds distinctly like 'Gardener's World'!) The first apple tree gets most of the water flowing down the site, the second tree is allowed no moisture for this is taken up by the large roots of the cherry tree. And the pear tree, well it's down at the bottom of the garden amongst the brambles and nettles as well as general rubbish. I rest my case!
We too cannot bear good fruit (kindness, love, joy, patience etc) unless we are planted in the right soil (church community perhaps) and watered properly (by the Holy Spirit). Without these we too will never reach our full potential as Christians.
---
Prayer
Lord Jesus,
You capture our imagination
with tiny stories
and remind us that we are like plants.
We need to be fed and watered
through the power of the Holy Spirit,
so that we may grow and mature
and produce 'good fruit' -
love, joy, peace, patience, kindness, generosity,
faithfulness, gentleness and self-control.
Amen.
---
Follow Up Thoughts
Perhaps you need cheering up at this point, if so, listen to this crazy children's song about the Fruits of the Spirit. I love it: