Monday, 17th May 2021: Appearance and Reality
Reading : Verses from Luke, Chapter 7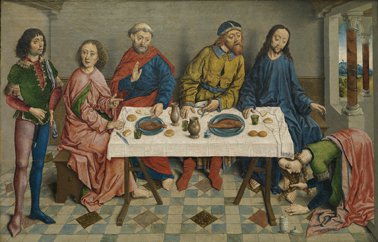 And a woman in the city, who was a sinner, having learned that Jesus was eating in the Pharisee's house, brought an alabaster jar of ointment. She stood behind him at his feet, weeping, and began to bathe his feet with her tears and to dry them with her hair.....Now when the Pharisee who had invited him saw it, he said to himself, 'If this man were a prophet, he would have known who and what kind of woman this is who is touching him - that she is a sinner.' Jesus spoke up and said to him, 'Simon, I have something to say to you.' 'Teacher,' he replied, 'speak.'
'A certain creditor had two debtors: one owed five hundred denarii, and the other fifty. When they could not pay, he cancelled the debts for both of them. Now which of them will love him more?' Simon answered, 'I suppose the one for whom he cancelled the greater debt.' And Jesus said to him, 'You have judged rightly.'
(Church in Wales Lectionary, New Revised Standard Version)
---
Thoughts
This account in Luke's Gospel is about the different between appearance and reality. Appearance is the way that something looks to others, from the outside as it were, while reality can be hidden and is the true state of things. Simon the Pharisee invites Jesus to a meal, but does not welcome him as an honoured guest. He does not carry out the traditional acts for an guest: he gives him no water to wash his feet, no kiss of welcome, and no oil to anoint his head. But the woman has bathed his feet with her tears and dried them with her hair, she has kissed his feet, and anointed him with ointment.
Outwardly, the woman is a sinner, and Simon the pharisee is an established figure of good reputation. But inwardly the reality is different. The woman knows her sin and has repented. Simon does not know his sin and obviously thinks he is doing Jesus a favour inviting an itinerant Teacher to eat at his house. He sees no need to repent. Jesus ends this story by forgiving the woman her sin.
Jesus is saying that God loves us but he judges the reality, not the appearance!
---
Prayer
Heavenly Father,
we know, if we are honest,
whether our appearance is real,
or whether it is a total sham.
We ask Your forgiveness
when we lie to ourselves
and to others,
and ask You to enable us to
see ourselves with unvarnished truth.
Then may we come to You to ask
for forgiveness.
Amen.
---
Follow Up Thoughts
You might like to read the whole of this story:
If you would like to explore the notion of the difference between appearance and reality, you might also like to look up this website: