Tuesday, 6th October 2020: William Tyndale and our Bible
Reading : Verses from John, Chapter 3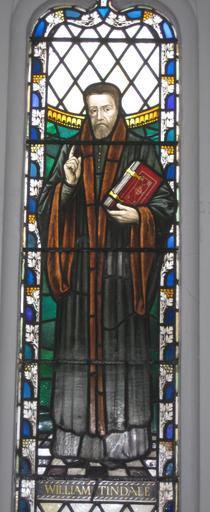 'For God so loved the world that he gave his only Son, so that everyone who believes in him may not perish but may have eternal life.
Indeed, God did not send the Son into the world to condemn the world, but in order that the world might be saved through him. Those who believe in him are not condemned; but those who do not believe are condemned already, because they have not believed in the name of the only Son of God.....but those who do what is true come to the light, so that it may be clearly seen that their deeds have been done in God.'
(New Revised Standard Version)
---
Thoughts
In Westminster Abbey there is a memorial stone to William Tyndale, a Protestant reformer, who translated the New Testament and the first five books of the Old Testament from Greek into English. He was forced to have his work printed abroad in 1526, in Germany, since this was illegal in England. However, he was then captured, imprisoned, strangled, and his body burnt.
But Tyndale's work has filtered down into the translations of the bible that we use today, and some of his phrases are in common use: eg 'the powers that be' and 'the spirit is willing'. Up to this date people attending worship each Sunday in their parish church would have only heard the bible read in Latin.
I would invite you to look at the scripture readings this week with fresh eyes, to appreciate the number of people who have been persecuted over the centuries to bring you your Bible.
---
Prayer
Lord God,
You inspired men and women
to tell of Your great work in
creating Your world;
to write about Your plan
for all Your people;
and to pass on the knowledge
of Your Son, Jesus Christ, our Lord.
Help us not to take for granted
the dangers that were faced,
by these men and women,
and to read our Bibles with fresh eyes.
Amen.