Thursday, 28th April 2022: The eyes of the Lord
Reading : Verses from Psalm 34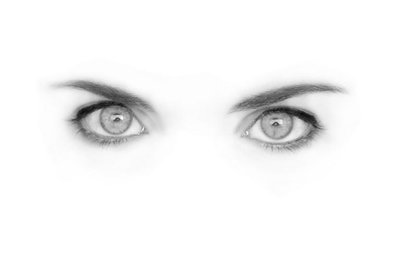 The eyes of the Lord are on the righteous,
and his ears are open to their cry....
When the righteous cry for help, the Lord hears,
and rescues them from all their troubles.
The Lord is near to the broken-hearted,
and saves the crushed in spirit.
Many are the afflictions of the righteous,
but the Lord rescues them from them all....
The Lord redeems the life of his servants;
none of those who take refuge in him will be condemned.
* Used female eyes for picture, not to be politically akward, but because all the men appeared to be angry!
(Church in Wales Lectionary, New Revised Standard Version)
---
Thoughts
Dozens of adults and children of all ages were in a large hall making banners out of sheets of sugar paper. The motive or symbol was put on one large sheet, then the other sheet was cut into two parts (one-third and two-thirds), the small part was the fringe for the bottom, and the large piece made a folded top for the banner. The theme was "God", and small groups were working on each banner. One group decided to cut out coloured shapes showing a head smothered in eyes that looked in all directions. Their text was taken from Psalm 34 and said "His eyes are on the righteous".
The thought that God sees all that we do shouldn't scare us. It's no different to having a loving parent watching over a child. The parent stands there ready to offer help or consolation when it's needed. Just as a parent will cuddle an upset child, so God enfolds us in love when we are broken and comfortless. Try turning to Him, and don't be surprised at what may happen.
---
Prayer
Heavenly Father,
You see all that You have made,
and You see us in all our muddle and mess.
Sometimes we don't think we need rescuing,
but You stand ready to offer love and support.
Help us to realise that we need to ask Your
involvement at the beginning of the day
and not just when things have gone wrong.
Amen.
---
Follow Up Thoughts
You might like to listen to Psalm 34 as sung by the Brooklyn Tabernacle Choir. The Psalm has 22 verses, so they are using many not included in the Thoughts of the Day, above: