Monday, 12th July 2021: Thankfulness
Reading : Verses from Psalm 124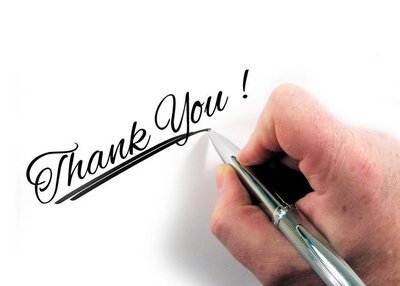 If it had not been the Lord who was on our side
- let Israel now say -
if it had not been the Lord who was on our side,
when our enemies attacked us,
then they would have swallowed us up alive,
when their anger was kindled against us;
then the flood would have swept us away,
the torrent would have gone over us....
Blessed be the Lord,
who has not given us
as prey to their teeth.
We have escaped like a bird
from the snare of the fowlers;
the snare is broken,
and we have escaped.
Our help is in the name of the Lord,
who made heaven and earth.
(Church in Wales Lectionary, New Revised Standard Version)
---
Thoughts
What is your record like in thanking people? Our parents and grandparents were really very good at thanking others for their help. Victorian ladies would pen beautiful little cards to thank others, and I can certainly remember older family members making up little posies or baskets of fruit or vegetables from the garden to thank someone for their help.
Do we make do now with a "Cheers"? Or perhaps a short email? Do we thank someone briefly at the time and then forget it, or do we thank them a little late? Perhaps we never say thank you to them. There are still one or two people around me who will place a few flowers on the doorstep, or a freshly made cake, to say "Thank you!", but these are few and far between now.
And what about God? Do we thank Him enough? Psalm 124 is an absolute paean of praise to God for all that He has done for the people of Israel. What would you want to thank God for in this way? *
* Anyone who fancies sending their 'Thanks to God,' to me is welcome!
---
Prayer
Lord God,
we thank You
for Your love for us.
We thank You
for not doing what we ask,
and sometimes for doing what we ask.
We thank You for beauty, music, art, and drama.
We thank You for friends and family.
We thank You for animals, bird, and our world.
Lord, we just thank You.
Thank You!
Amen.
---
Follow Up Thoughts
How about finding one or two quotes to thank God from this site - '36 Thank God Quotes'