Monday, 22nd March 2021: Susannah
Reading : Verses from Susanna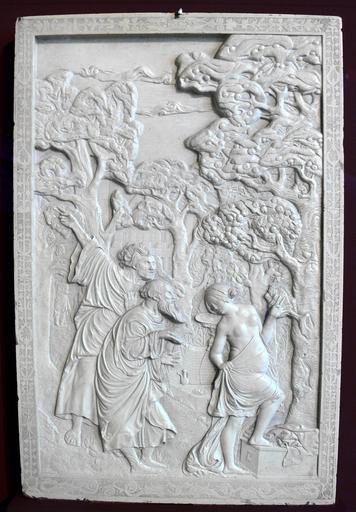 There was a man living in Babylon whose name was Joakim. He married the daughter of Hilkiah, named Susanna, a very beautiful woman and one who feared the Lord. Her parents were righteous and had trained their daughter according to the law of Moses. Joakim was very rich, and had a fine garden adjoining his house'. The Jews used to come to him because he was the most honoured of them all.
That year two elders from the people were appointed as judges. Concerning them the Lord had said: 'Wickedness came forth from Babylon, from elders who were judges, who were supposed to govern the people.' .....When the people left at noon, Susanna would go into her husband's garden to walk. Every day the two elders used to see her, going in and walking about, and they began to lust for her...... One day they were watching and when the maids had gone out, the two elders got up and ran to her. They said, 'Look, the garden doors are shut, and no one can see us. We are burning with desire for you; so give us your consent, and lie wit us. If you refuse, we will testify against you that a young man was with you, and this was why you sent your maids away.'
(Church in Wales Lectionary, New Revised Standard Version)
---
Thoughts
The book of Susanna is not well known. It is to be found in the Apocrypha - the books that lie between the Old and the New Testament. The book is about the virtuous Susanna who is tried for her life by two wicked judges who have sought to seduce her while she bathes in her private garden. The story really belongs in the Book of Daniel.
It is an appropriate account for Lent as we move towards Good Friday and our Lord's death. The story has always been seen as a link to our Lord. He too is innocent and will be tried by the powers of this world. To read the whole story go to Further Thoughts at the bottom of this page.
You might like to reflect on Susanna, her innocence, and her terrible plight, and then on Jesus. There is one huge difference in these two trials, someone intervened for Susanna, whereas our Lord went to his death voluntarily and without an intervention. He chose this path because he bore our sins upon his shoulders, so that we might confess and be freed from our sin.
---
Prayer
Lord Jesus Christ,
may we come to You
in true repentance.
May we never forget
the sacrifice that You made for us.
And may we understand that our sin
was forgiven only through Your death.
Amen.
---
Follow Up Thoughts
You will find the full story of Susanna if you click on the link below - it is only two pages long: