Monday, 25th April 2022: St Mark, Evangelist
Reading : Verses from Acts Chapter 12 and 13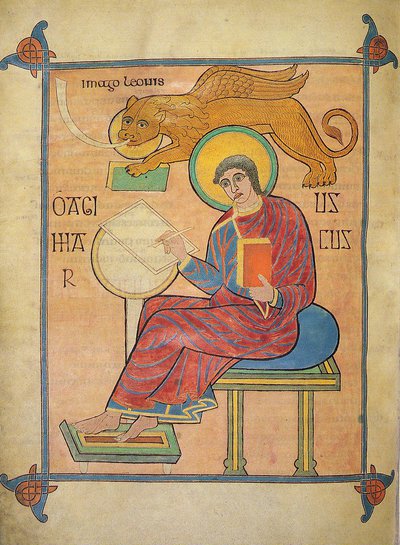 * (Image from the Lindisfarne Gospels)
Then after completing their mission Barnabas and Saul returned to Jerusalem and brought with them John, whose other name was Mark.
Now in the church at Antioch there were prophets and teachers: Barnabas, Simeon who was called Niger, Lucius of Cyrene, Manaen a member of the court of Herod the ruler, and Saul. While they were worshipping the Lord and fasting, the Holy Spirit said, 'Set apart for me Barnabas and Saul for the work to which I have called them.' Then after fasting and praying they laid their hands on them and sent them off.
So, being sent out by the Holy Spirit, they went down to Seleucia; and from there they sailed to Cyprus. When they arrived at Salamis, they proclaimed the word of God in the synagogues of the Jews. And they had John also to assist them.
(Church in Wales Lectionary, New Revised Standard Version)
---
Thoughts
Today we celebrate the feast of St Mark. He was probably a cousin of Barnabas, and is often called John Mark. We cannot be absolutely sure of these facts, but he seems to have met Peter at some point and become his follower. It would be from Peter who lived in Capernaum in Galilee that he received the information he needed to write his Gospel. According to the Acts of the Apostles (12.12) Mark's mother's house in Jerusalem was a centre of Christian life and he accompanied Barnabas and Paul to Antioch in modern-day Turkey. However, it is the Coptic Christian church in Alexandria in modern-day Egypt that claims Mark as its founder. Alexandria and Antioch were to become two great centres of theology over the next few centuries.
His symbol is the lion, and can be seen on icons and on pictures of the Evangelist. Mark's Gospel is the shortest and the earliest of the four Gospels. The pace of the action is fast, and the word 'immediately' appears some 40 times in the Gospel.
---
Prayer
Heavenly Father,
You called St Mark to be an Evangelist,
and to spread the good news
of Your Son, Jesus Christ,
who came to save us from our sin
and restore us to Yourself.
May we copy his example this day
and find the courage to share our faith
through word or deed with those around us.
Amen.
---
Follow Up Thoughts
You might like to find out more about the Lindisfarne Gospels (see picture above), if so look at this site: