Friday, 25th June 2021: Put on the armour of light
Reading : Verses from Romans, Chapter 13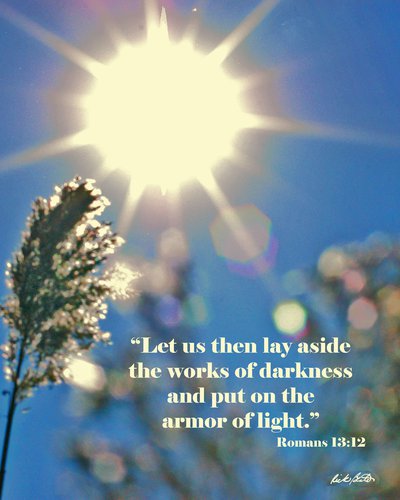 Owe no one anything, except to love one another; for the one who loves another has fulfilled the law.... Love your neighbour as yourself. Love does no wrong to a neighbour; therefore, love is the fulfilling of the law.
Besides this, you know what time it is, how it is now the moment for you to wake from sleep. For salvation is nearer to us now than when we became believers; the night is far gone, the day is near. Let us then lay aside the works of darkness and put on the armour of light..... put on the Lord Jesus Christ.
(Church in Wales Lectionary, New Revised Standard Version)
---
Thoughts
The service of Compline in the Anglican Church is a very special service said in the evening before going to bed. It's often used at the end of a day when Christians have been meeting for study, or when a conference has been held. As the light of the day goes and the dark of the night approaches we ask God to protect us from all kinds of evil, and the following words from the first letter of St Peter are read, with its wonderful imagery:
'Be sober, be vigilant,
because your adversary the devil
is prowling round like a roaring lion,
seeking for someone to devour.
Resist him, strong in the faith.'
In the verses from St Paul's letter to the Romans above, we are told to 'put on the armour of light'. A friend said today, "It's like the old Ready Brek advert". You may remember, a child has his Ready Brek cereal, then goes outside into the winter morning. His body glows with light and protection from the warm cereal that will keep out the cold.
Just as darkness is linked to sin in the language of the Bible, so light is linked to goodness and to Jesus. As a Christian when we confess our sin and when we believe in the power of God we are given the protection of God's light to keep us safe in the everlasting battle between good and evil.
---
Prayer
Lord God,
we know that the spiritual battle
that we all face -
to do good and to fight evil -
is an ongoing one
in our daily life.
Give us the power to resist
all that is evil,
and give us Your protection.
Amen.
---
Follow Up Thoughts
If you would like to look up the service of Compline which includes some wonderful imagery from the Bible, and especially the words of Psalm 91, click on the following website, which gives the service as a Word document. Note that there are choices to read: