Tuesday, 27th April 2021: Psalm 139
Reading : Verses from Psalm 139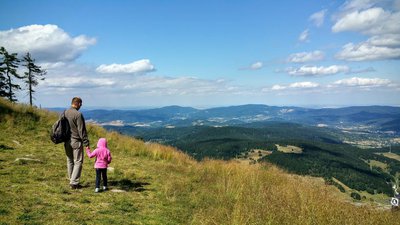 O Lord, you have searched me and known me...
Where can I go from your spirit?
Or where can I flee from your presence?
If I ascend to heaven, you are there;
If I make my bed in Sheol*, you are there.
If I take the wings of the morning
and settle at the farthest limits of the sea,
even there your hand shall lead me,
and your right hand shall hold me fast.
* The place of the dead.
(Church in Wales Lectionary, New Revised Standard Version)
---
Thoughts
We have all kinds of ways to keep very young children safe. In the house we can put toddlers into play-pens and use stair-gates to stop them falling down stairs. Outside we can use reins to stop them wandering off into danger, or hold them tightly by the hand. Equally, at the other end of the scale, it's not uncommon to see elderly dementia sufferers holding the hand of a loved one when out walking, in order that they don't go off on their own. The Psalmist argues that God cares for us as though we are tiny children. He holds us fast by the hand, not only that, He holds us fast by the right hand, presumably he means His strongest hand. God keeps us safe wherever we go.
Can you remember that feeling of safety when you held your parent or guardian's hand? Can you remember how the hand felt? Even blindfolded you could tell whose hand it was, and that hand gave such a sense of safety and love.
When we turn to God we too are enfolded in love, and guided by Him. We just need to learn to trust Him totally, take His hand, and step out into the future.
---
Prayer
Heavenly Father,
You hold our hand
like a loving parent
holds a child's hand.
May we learn to trust You
to keep us safe
and guide our steps today,
and in the years to come.
Amen.
---