Saturday, 9th January 2021: Plugging in to God
Reading : Verses from 1 John, Chapter 4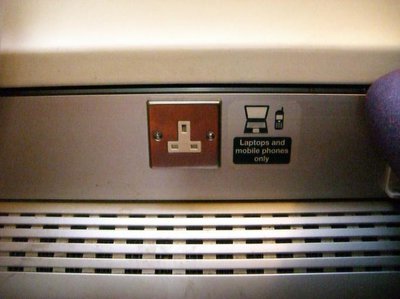 No one has ever seen God; if we love one another, God lives in us, and his love is perfected in us. By this we know that we abide in him and he in us, because he has given us of his Spirit. And we have seen and do testify that the Father has sent his Son as the Saviour of the world. God abides in those who confess that Jesus is the Son of God, and they abide in God. So we have known and believe the love that God has for us.
(Church in Wales Lectionary, from New Revised Standard Version)
---
Thoughts
I'd just made the train at Carlisle by the skin of my teeth, only to discover my phone hadn't been charged. That was alright the train had electric sockets, so I could charge the phone on the journey to London. I found my seat and took out my laptop and phone to do some work before an important meeting at SPCK (Society for Promotion of Christian Knowledge) when I arrived.
At that point reality hit! There were no sockets, and as my laptop's battery was low, that would run out shortly. The result was a long journey with nothing much to do!
Today's reading from the first letter of St John reminds us that when we try to live without God's help it's like trying to work with a flat battery, and life is difficult. When we accept that Jesus is our Saviour, God sends His Holy Spirit to energise us and enable us grow closer to Him. Don't try going it alone, it's too difficult!
---
Prayer
Lord God,
You know how easy it is
for us to get on with life
and forget You,
before wondering why
things don't work out.
We ask You to help us
to turn to You first,
and then send us Your Holy Spirit.
Amen.
---
Follow Up Thoughts
Be honest, how often have you tried to live your life alone, without inviting God to help? You won't always get the help you wanted, sometimes God has other ideas.
What about keeping a diary of how often you ask His help and what happens, and how often you forget to ask His help and what happens?