Monday, 19th October 2020: The loving parent
Reading : Verses from Psalm 103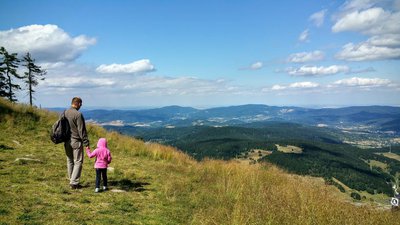 Bless the Lord, O my soul,
and all that is within me,
bless his holy name.
Bless the Lord, O my soul,
and do not forget all his benefits -
who forgives all your iniquity,
who heals all your diseases,
who redeems your life from the Pit,
who crowns you with steadfast love and mercy,
who satisfies you with good as long as you live.
(New Revised Standard Version)
---
Thoughts
Our family had a strange Easter many years ago. We returned from church on Good Friday and our boys went out to play, but soon returned, one of them having been hurt on play equipment in the park. After four hours in A&E, we returned with one son stitched up. Then two days later on Easter Day, the same thing happened, and we spent another four hours in A&E with the same son! I was very glad he was old enough to explain to the nurses what had happened and we weren't accused of child-abuse!
Moral: We love and care for our children, but we can't protect them from all the decisions they make as children or adults, neither can we wrap them in cotton-wool!
Psalm 103 blesses God for all He does for us. It specifically mentions that he heals us from diseases, however, here's a thought - we have free-will and we make our own decisions - and we cannot always save our own children from their mistakes. So, can we expect our Heavenly Father to save us in a pandemic, if we choose to disregard recommendations?
---
Prayer
Lord God,
we thank You that You love us
and care for us as a parent
cares for their child.
Forgive us when we make mistakes
and go our own way,
and teach us how to listen to You
and accept Your ways.
Amen.