Monday, 12th October 2020: The healing of Naaman
Reading : Verses from 2 Kings, Chapter 5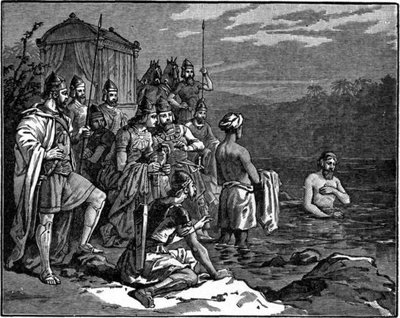 Naaman, commander of the army of the king of Aram, was a great man and in high favour with his master, because by him the Lord had given victory to Aram. The man, though a mighty warrior suffered from leprosy. Now the Arameans on one of their raids had taken a young girl captive from the land of Israel, and she served Naaman's wife. She said to her mistress, 'If only my lord were with the prophet who is in Samaria! He would cure him of his leprosy. So Naaman went and told his lord just what the girl from the land of Israel had said. And the king of Aram said, 'Go then, and I will send along a letter to the king of Israel.'
He went, taking with him ten talents of silver, six thousand shekels of gold, and ten sets of garments.... Elisha the man of God ....sent a message to the king...'Let him come to me, that he may learn that there is a prophet in Israel'. So Naaman came with his horses and chariots, and halted at the entrance of Elisha's house. Elisha sent a messenger to him, saying, 'Go, wash in the Jordan seven times, and your flesh shall be restored and you shall be clean.' But Naaman became angry and went away, saying 'I thought that for me he would surely come out, and stand and call on the name of the Lord his God, and would wave his hand over the spot and cure the leprosy!' .... He turned and went away in a rage. But his servants approached and said to him, 'Father, if the prophet had commanded you to do something difficult, would you not have done it? How much more, when all he said to you was, "Wash, and be clean"?'
So he went down and immersed himself seven times in the Jordan, according to the word of the man of God; his flesh was restored like the flesh of a young boy, and he was clean. Then he returned to the man of God, he and all his company; he came and stood before him and said, 'Now I know that there is no God in all the earth except in Israel.'
(New Revised Standard Version)
---
Thoughts
Naaman is an enemy of Israel, and he is a leper - a disease that would begin to rot away his limbs until his death. The servant girl has been torn from her family but bravely witnesses to God's work. Her faith is strong enough to speak up, knowing that Elisha can heal Naaman.
The Commander takes over a million pounds worth of gifts with him, but Elisha merely instructs him to wash in the river Jordan, which offends Naaman. God isn't working in the way he expects, and he goes off in a rage. His pride is being humbled, but when he gives in, his faith grows stronger with each dip into the Jordan, and God offers him healing in return for this faith.
So we might think of this story as:
Faith (of the servant girl) leads to
Witness of God, (by the servant girl) leads to
Pride being humbled (by Naaman), leads to
Healing (of Naaman), leads to
Belief in God (by Naaman).
I wonder, have you enough faith and courage to be a witness to God's work?
---
Prayer
Heavenly Father,
give us the courage to
acknowledge our belief,
and our faith in You,
and to witness to Your work
in the world.
Amen.