Tuesday, 31st August 2021: Saint Aidan, Bishop
Reading : Verses from Ezekiel, Chapter 34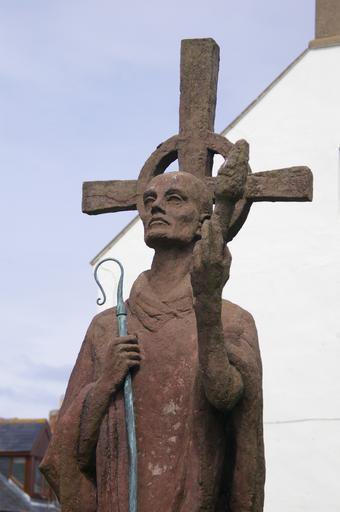 For thus says the Lord God: I myself will search for my sheep, and will seek them out. As shepherds seek out their flocks when they are among their scattered sheep, so I will seek out my sheep. I will rescue them from all the places to which they have been scattered on a day of clouds and thick darkness....
I myself will be the shepherd of my sheep, and I will make them lie down, says the Lord God. I will seek the lost, and I will bring back the strayed, and I will bind up the injured, and I will strengthen the weak, but the fat and the strong I will destroy. I will feed them with justice.
(Church in Wales Lectionary, New Revised Standard Version)
---
Thoughts
Today we remember Saint Aidan. He was born in Ireland around 590 AD, and became a monk on the Scottish island of Iona in the Inner Hebrides. He moved to the island of Lindisfarne when King Oswald of Northumbria requested that he be made bishop of the newly converted Northumbrians. He was consecrated Bishop in 635 AD and settled on Lindisfarne where he established his church and a monastery, and his see (the Diocese), close to the King's stronghold at Bamburgh. The monastery became a leading centre of Christianity, producing men like Chad (the first bishop of Lichfield), and his brother Cedd who converted the East Saxons.
The Romans brought Christianity to this area but the Anglo-Saxons had pushed it back. However, Aidan travelled ceaselessly as a missionary preaching to the Anglo-Saxon nobility and to the poor. He would walk the lanes to different villages talking about his faith, and it's really due to him that Christianity was restored to the north of England. He encouraged the building of churches and schools, and the Anglo-Saxon historian and theologian Bene praised Aidan for his learning, charity, and simplicity of life. Aiden died on the 31st August 651 at the royal castle at Bamburgh. He had become known as the "Apostle of Northumbria" and was later recognised as a Saint by the Church.
If you ever get the chance to visit Lindisfarne take it, for when the tide comes in and the causeway is covered, it's a place of peace and simplicity. I once stayed there for three weeks and was totally captured by it and the Inner Farne islands, and the view of Bamburgh castle in the distance. It is still a place of prayer and contemplation.
---
Prayer
Heavenly Father,
we thank you for men and women
who like Aidan took Christianity to their world;
and who laid foundations
so that we too were nurtured
in the faith in due course.
May we learn from them
how to speak to others about our faith,
and help to restore Christianity in our area.
Amen.
---
Follow Up Thoughts
If you would like to learn more about St Aidan, you can probably do no better than look up Wikipedia:
Another interesting article is by Rev Canon Kate Tristram who has worked on Lindisfarne for years, It's a little difficult to read the text because of the brown background, but worth reading:
This site, from the British Library, looks at the Lindisfarne Gospels, which were created in the monastery: